---
The official narrative will be protected,those who dare buck that narrative will be reduced to the outer darkness with the gnashing of teeth
This Iranian (former Muslim) analyst offers excellent observations of the problems with Finnish society (or any Western society for that matter) embracing Muslim Brotherhood operatives and agendas under the guise of human/civil rights. He understands all to well about sharia and Islamic societies in general. His column, in one of Finland's largest tabloid papers, the IltaLehti.fi, is both interesting and crucial for Finns to read in their own language about the aspects of Islam that are demonstrably evil and destructive for our societies, something that they don't usually get to hear in other Finnish media. It looks like to me, and to Alan as well, that Finnish state media YLE is boycotting him, this time for the 3rd time in a row.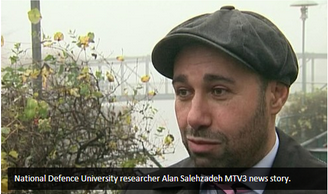 Translation: This is the third time #YLE canceled at the last minute my participation in the various Ajankohtainen program. A coincidence?
Tämä on kolmas kerta, #YLE peruuttaa viime hetkellä osallistumiseni eri ajankohtaisohjelmiin. Sattumaa? //t.co/5UPHWF6OGo

— Alan Salehzadeh (@AlanSalehzadeh) April 13, 2017
Is also YLE boycott me because of foreign powers meddling?
Written by Alan Salehzadeh 
I decided to grab a pen when it is now the third time that I am invited to YLE's talk shows, but at the last moment, someone pulls the string and the call is canceled. This happened again when I was boycotted and confirmed for tomorrow's A-studio to talk about the grand mosque. All had been agreed, and I talked to a reporter Helmiina Suhonen yesterday about an hour or so with her about the grand mosque project. She asked me to propose any other person that the program could be called. I gave her a couple of names. The same reporter called back today in the morning and welcomed me to the program. At the same time, she confirmed that I am the first confirmed participant, the other called experts are still out of reach and they have not confirmed their participation.
But today, at 6:00pm, the telephone rang. The call was from YLE's Ville Kolari, executive producer, who asked who I have been invited by the program. They are reportedly ready for visitors, but haven't found necessarily a space for me in the program. I explained their editor of operations, who rang me yesterday morning. I explained that I was the first person booked, and yesterday, the reporter did not even know who else is going to be called. Kolari said he'd call again in a moment, and so did, to withdraw my participation.
This is the third time that YLE canceled at the last minute my participation in the various current affairs programs. Coincidence? Or is it based on any agenda? If any of the journalists choose to address the above, I would hope that they themselves will bring it forth. In fact, I never asked to be called for any program, the background is the organization's own internal arrangements.
The scenario is very similar to what happened in 2013 when I worked for the University Department of National Defense Strategy. Then, as soon as my research were published, the Iranian ambassador and his delegation were embroiled in Finnish affairs and were able to censor my writing. Later, the Finns were lied to at the high level, that the allegations are untrue, but  I had all the evidence in my pocket, official bodies were forced to admit that the at the request of Iran, research was actually pulled off the web. I was shown an official apology, which was nice, but what are apologies to the Finnish people when foreign powers are able to so easily influence the country's internal affairs?
In fact, I believe strongly that influence of high infiltrated lobbyists who seek to drive the agenda of foreign powers in Finland. They have a small but strong set. If its desired the rule of law in Finland is to exist, they need to be exposed.
More at IL (in Finnish)
NOTE: A few years ago Alan had a paper critical of Iran withdrawn from the website of the military college in Helsinki, due to the Iranian ambassador's request. After the JPost's articles on it by Benjamin Weinthal, the college dean had the paper put back online. Alan Salehzadeh thinks that outside influence is once again rearing its head in getting him banned from, this time, public media.