---
Antifa show their goose stepping colors (black) in Trafalgar Square as EDL and Britian First supporters march against sharia law.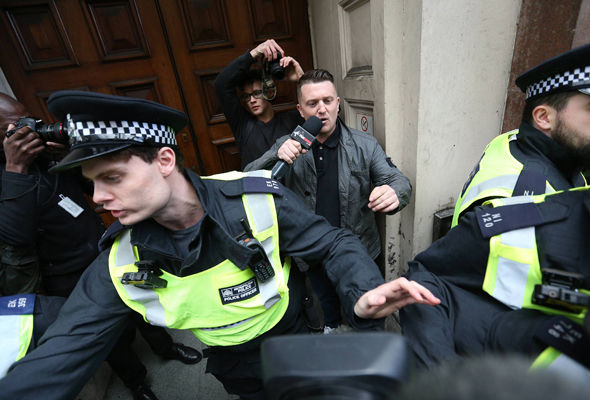 Clashes as EDL members and anti-fascists demonstrate in Trafalgar Square
PROTESTERS have clashed in central London during a planned march by the English Defence League (EDL) and Britain First.
The joint EDL Britain First event, described as a "march against terrorism", was called in the wake of the Westminster terror attack.
A counter-demonstration from Unite Against Fascism (UAF) is unfolding nearby.
Tensions ran high as former EDL leader Tommy Robinson arrived with dozens of police officers attempting to control the chaos.
Crowds gathered in Trafalgar Square from midday with Met Police ordering protestors to follow a set route.
UAF protesters chanted "EDL go to hell" as hundreds of protesters spilled onto the surrounding roads.
Scotland Yard announced it would be imposing conditions on the events under the Public Order Act.