---
Kick Turkey out of NATO and offer its seat to Israel…
This all started with the Turkish Islamonazi government demanding its ministers and other officials access to ethnic Turks scattered around Europe, mainly in Austria, Germany and the Netherlands. The governments targeted by Erdogan are correctly refusing them any rights whatsoever to conduct political rallies within their states.
Erdogan is upping his game, calling these governments 'nazis', though his regime is the only NATO member that I know of openly aligning itself with neo-fascists, in this case the Gray Wolves. This scene was taken in Istanbul (formerly Constantinople, before it was invaded by Muslim hordes) in front of the Dutch consulate, with Erdogan government representatives being present.
Now they've really upped their game with thousands of rioters taking to the streets in Rotterdam, waving flags and shouting allahu akbar. This comes at a real opportune time for Geert Wilders who will wisely use the situation to underline his consistent theme, that Islam is an alien ideology and has no place in the West.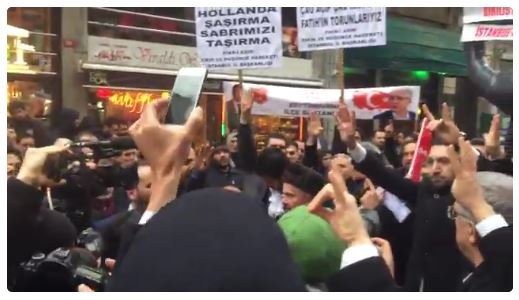 WATCH: Rotterdam Riots & Turkish Protest Videos & Photos
Conflict escalated into dramatic scenes on the streets of Rotterdam as the Netherlands banned Turkish ministers from speaking in that European city.
According to Reuters, the dispute prompted Turkish President Tayyip Erdogan to call the Netherlands a "Nazi remnant." The two countries are historically NATO allies.
SKY News reported that the protest involved "more than 1,000 supporters of Turkish President Tayyip Erdogan." The Turkish president has been seeking support from Turks throughout Europe "to help clinch victory in the 16 April referendum that could give him sweeping new powers," SKY News reported. However, according to SKY News, Dutch leaders believe the measure is undemocratic.
"Turkey's family minister was prevented by police from entering the Turkish consulate in Rotterdam. Hundreds of protesters waving Turkish flags gathered outside, demanding to see the minister," Reuters reported.