---
Interesting thing is that the police refuse to arrest and detain these illegal aliens who have had their asylum/refugee applications rejected.
Reads: "Illegal aliens get out of Finland!"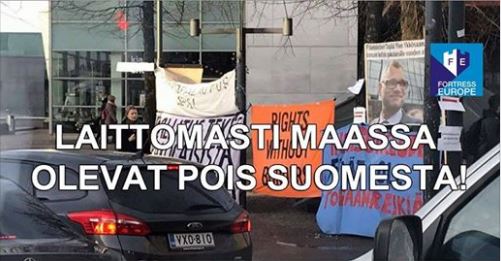 Helsinki police brace for asylum seeker protests on Saturday
Far-right groups are planning counter-demonstrations in reaction to an asylum seekers' protest camp and support concert this weekend. Police say they will be ready in case of any "unreasonable" disturbances.
Helsinki Police are taking a serious view of online threats by right-wing groups who say they will try to dismantle an asylum seekers' camp in central Helsinki. Several groups say they will stage counter-demonstrations on the Railway Square during a planned support concert for asylum seekers on Saturday.
Asylum seekers began their protest nearly a month ago in front of the Kiasma Contemporary Art Museum, but later police moved the encampment to Railway Square. The protesters are calling for a halt to deportations and alleging that the asylum decision process is unjust.
A Facebook group calling itself "Puhdistus" ("purge" or "cleansing") says it was set up by a group calling itself Suomen Kansallismieliset ("the Finnish Nationalists"). The neo-Nazi Finnish Resistance Movement (SVL) has also been promoting the event on its website.
Last week police began moves to ban the group following the death of a man who was attacked at an SVL rally near Helsinki Railway Station last autumn.
Police say they have not been notified of this far-right gathering, although other protest groups have filed notices.
Shadowy group sets Friday "ultimatum"
According to the Facebook group's statement, its members aim to take matters into their own hands and begin dismantling the camp on Saturday unless authorities do so by Friday. It also suggests that supporters may be coming in from abroad to participate.
Chief Inspector Jari Taponen of the Helsinki police says that police take online threats against asylum seekers seriously.
"We will have a larger presence than usual at the site on Saturday," he tells Yle.
[…]
No plans to raze camp
Police say they have no intention of breaking up the migrants' ongoing protest camp on Railway Square.
"We're talking about the demonstrations, not the camp. That is a form of demonstration and we are treating it as a public gathering under the Assembly Act. The law does not specify how long a demonstration is allowed to last. Police will not intervene in the situation as long as there is no unreasonable disruption to the general order and security. So far the demonstrations have proceeded within reasonable bounds," says Taponen.