---
What a jerk.
The explosive story  is the State Dept leaks, not Flynn. Violating federal law to cripple a president is the story here. Ignoramus's like Saska Saarikoski (I'm giving him more international fame now than he's ever had in his lifetime) are bottom feeders. Pseudo journalists like this first wade through all of their favorite Left-wing news sources before spilling their bile of twaddle.
Flynn's case is much more serious than Hillary's e-mail ever was. But what follows? Everything is possible, but not likely.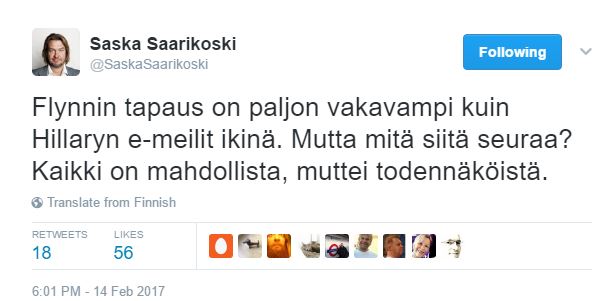 Hillary Clinton's server violated federal law, (multiple times) irregardless of the fact that she was not prosecuted by the politicized, partisan DOJ and FBI chief. Goofballs like Saarikoski are so superficial in their reporting, they only look to what what was said and done, not the why it was said and done. He's just a transcriber of Leftist talking points on any given issue, which makes him a hack.
For those of my readership who really want to know what really just took place, read this article by Adam Kredo, this is real journalism, something that's totally alien to the likes of a Saska Saarikoski. What a dope. It wouldn't surprise me if he's 'triggered' by his own initials.
Flynn had been preparing to publicize many of the details about the nuclear deal that had been intentionally hidden by the Obama administration as part of its effort to garner support for the deal, these sources said.

Flynn is now "gone before anybody can see what happened" with these secret agreements, said the second insider close to Flynn and the White House.
Former Obama Officials, Loyalists Waged Secret Campaign to Oust Flynn
Sources: Former Obama officials, loyalists planted series of stories to discredit Flynn, bolster Iran deal
BY: Adam Kredo

The abrupt resignation Monday evening of White House national security adviser Michael Flynn is the culmination of a secret, months-long campaign by former Obama administration confidantes to handicap President Donald Trump's national security apparatus and preserve the nuclear deal with Iran, according to multiple sources in and out of the White House who described to the Washington Free Beacon a behind-the-scenes effort by these officials to plant a series of damaging stories about Flynn in the national media.
The effort, said to include former Obama administration adviser Ben Rhodes—the architect of a separate White House effort to create what he described as a pro-Iran echo chamber—included a small task force of Obama loyalists who deluged media outlets with stories aimed at eroding Flynn's credibility, multiple sources revealed.
The operation primarily focused on discrediting Flynn, an opponent of the Iran nuclear deal, in order to handicap the Trump administration's efforts to disclose secret details of the nuclear deal with Iran that had been long hidden by the Obama administration.
Insiders familiar with the anti-Flynn campaign told the Free Beacon that these Obama loyalists plotted in the months before Trump's inauguration to establish a set of roadblocks before Trump's national security team, which includes several prominent opponents of diplomacy with Iran. The Free Beacon first reported on this effort in January.
Sources who spoke to the Free Beacon requested anonymity in order to speak freely about the situation and avoid interfering with the White House's official narrative about Flynn, which centers on his failure to adequately inform the president about a series of phone calls with Russian officials.
Flynn took credit for his missteps regarding these phone calls in a brief statement released late Monday evening. Trump administration officials subsequently stated that Flynn's efforts to mislead the president and vice president about his contacts with Russia could not be tolerated.
However, multiple sources closely involved in the situation pointed to a larger, more secretive campaign aimed at discrediting Flynn and undermining the Trump White House.