Best possible advice, solitary confinement for the duration, then kick them out of the country if they have dual citizenship.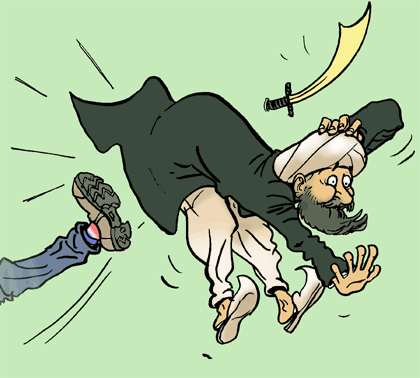 JIHADI JAILS: Extremist networks built ready to strike from INSIDE French prisons
FRENCH jails are being transformed into radical networks of jihadis formed WITHIN prison walls.
GETTY
Ten radicalised prisoners were forced to leave Fleury-Mérogis prison in July
Prisoners under special surveillance for radicalisation have been transferred from jail to jail in a bid to dismantle the ring of jihadis spreading their vile hate to inmates.
Europe's largest prison, Fleury-Mérogis, in the southern suburbs of Paris, is already affected with ten radicalised prisoners forced to leave in July and moved to cells in northern France.
The jail currently holds Salah Abdeslam in solitary confinement – the French-Moroccan terrorist who helped plan the coordinated terrorist attacks on the French capital last November.
According to the French penitentiary administration, this is the first time so many prisoners have had to be separated from other inmates on grounds of radicalisation.
A spokesperson for the French penitentiary administration said unruly prisoners often complained about overcrowding and refused to return to their cells.
He said: "Rebel groups with similar, irrational demands were being formed. They were complaining about things like their living conditions.