What kind of "normal" relations can one have with islamonazi regimes?
Turkish PM Skirts Israeli TV Reporter's Query About Ankara-Jerusalem Normalization, Pressure on Hamas to Return Bodies of Slain IDF Soldiers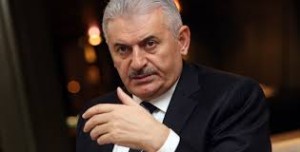 Turkish Prime Minister Binali Yildirim skirted a two-part question by an Israeli reporter about the newly announced rapprochement agreement between Jerusalem and Ankara, Israel's Channel 10reported.
During a press conference in the Turkish capital on Monday, Moav Vardi, Channel 10's correspondent in Ankara, asked Yildirim if the reconciliation deal will lead to genuine normalization, and whether Turkey would force Hamas to return to Israel the bodies of Hadar Goldin and Oron Shaul – two IDF soldiers who were killed during Operation Protective Edge in the summer of 2014 and whose bodies were abducted by the terrorist organization ruling the Gaza Strip.
According to Channel 10, Yildirim avoided answering directly, saying, "It took years to reach this agreement; it's a very important step, after which we will decide, based on progress in the relationship, how to act down the line. In order to implement this agreement, there are things the Israeli and Turkish governments have to live up to."
Yildirim also mentioned what he called the "key stumbling block" to the negotiations, which have been going on for "a very long time" — namely, the "condition of Palestinians in Gaza."
"I hope this agreement will be fruitful for [the Turkish] people and the people in Gaza," Yildirim said, now that Turkey will be allowed to transfer goods to the coastal enclave, after Israel inspects the content of shipments at the Ashdod Port.