But they did manage to find a pastor who said that they're going to hell….
Sweden slides down Europe's 'gay friendly' rankings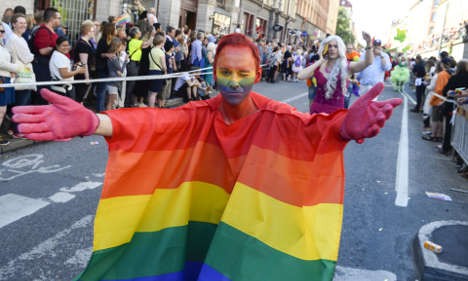 Published: 10 May 2016 15:59 GMT+02:00
Updated: 10 May 2016 16:32 GMT+02:00
The Nordic country has fallen from fourth to twelfth place in a review of how LGBTI people experience human rights across the continent, by campaign group ILGA-Europe.
Sweden had previously been rated below only Malta, Belgium and the United Kingdom in the so-called Rainbow Index, but this year countries like Denmark, France, Portugal and Finland bounded ahead, causing it to lose its position.
Howver ILGA-Europe told The Local this was more a result of other nations improving their policies than life in Sweden getting worse for gay, lesbian, bisexual, or transgender people.
"A lot of countries have stagnated at a relatively high level, but are now starting to move slightly down the rankings because other countries are moving ahead," said advocacy director for ILGA-Europe Katrin Hugendubel.
One area where Sweden lost points was not having a formal plan to combat homophobia and transphobia, which countries like France and Belgium have created.
The report highlighted a number of incidents of high-profile Swedes who uttered homophobic or transphobic statements over the past year, such as when former pastor and Christian Democrat parliamentary candidate Tommy Dahlman said that gay people would "go to hell".
More here