Dr. Andrew Bostom has an excellent piece that I often refer to when talking about Turkey and its re-Islamization. This process started the day Kemal Ataturk started to feel ill. Uriel Heyd In 1968:
"Until a few years ago many foreign observers, including, I admit, myself, were inclined to think that this development [Turkey's re-Islamization] was no more than a renewed expression of sentiments which for a long time could not be freely manifested and that the overall process of secularization was going on very slowly but irresistibly. Today I doubt whether this view is still tenable."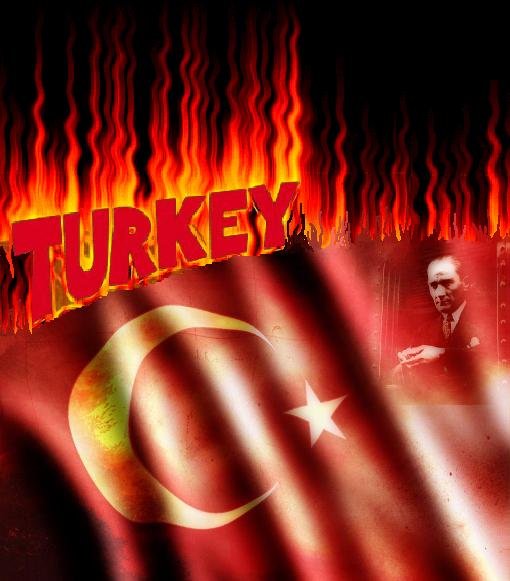 Secularism shouldn't be in Turkey's new constitution: Parliament speaker
ANKARA
Secularism must not feature in the new constitution, Parliament Speaker İsmail Kahraman said on April 25, stressing that "as a Muslim country" Turkey's constitution should be religious.
"As a Muslim country, why should we be in a situation where we are retreating from religion? We are a Muslim country. So we must have a religious constitution," Kahraman said in a conference titled "New Turkey and New Constitution" in Istanbul.
"A description of secularism shouldn't be in the new constitution. France, Ireland and Turkey have constitutions that include a description of secularism. But everyone interprets it the way they want to. That shouldn't be the case," he added, suggesting that the charter should "cohere with society."
Kahraman referred to the constitutions penned in 1961 and 1982, claiming they are "religious constitutions" despite the fact that the word "Allah" does not come up in either of the texts.
"Both the 1961 and 1982 constitutions are religious. Religion classes are obligatory and this is based on faith," he said.
Kahraman's comments have been slammed by the main opposition Republican People's Party (CHP), with party head Kemal Kılıçdaroğlu questioning the ruling Justice and Development Party's (AKP) priorities.
More here. H/T: EBK