Yeah, you read that headline right…….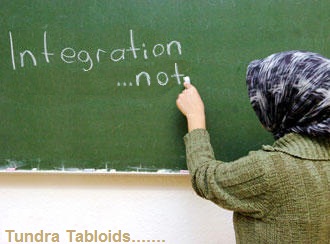 Swedish terror suspect was in a documentary about successful integration
As an eleven-year-old Osama Krayem was in a documentary on how to succeed with integration.
People close to him describe him as a decent, quiet and reclusive – before radicalization.
Now he is accused of terrorist murder for his suspected involvement in terrorist attacks in Brussels.
– It was wrong what he did and we need to understand why, says a friend of the family.
[…]
Participated in the movie
Osama Krayem now has been arrested on suspicion of murder through terrorism amazes people who knew him while growing up in Malmö.
Several Aftonbladet talked to say that Osama Krayem's father was keen that the children would be well integrated into Swedish society. In fact, Osama, eleven years old, with his father and brother took part in a documentary on sport as a means precisely for integration.
The movie, "Without borders – a film about the sport and integration", made by freelance journalist Paul Jackson for the sports club IFK Malmö, and appeared on People's cinema in Malmö in 2005.
Christer Girke, then the club's marketing manager, led the project of integration.
– We wanted to show the importance of integration and that there needs to be more difficult than to start talking with each other, he says.
He remembers Osama Krayem as a very reclusive boy.
– The boys were to go to the association to see what the other Swedes did and get to know the associations were important, how it can be a gateway to jobs and much more. I understood what the father wanted the boys would be part of the community, said Girke.