They should have fired countermeasures at it.
Being a former US sailor (SM 2nd class) on board the USS Dewey DDG-45 (the Cocked 45), I was in a situation where a US fighter jet buzzed our ship, and the sonic boom it created right above us almost knocked me to the deck.
NOTE: All of this is due to Obama's weak, pathetic foreign policy. The US is being treated like a hated stepchild. Putin has never even done that to a Finnish boat.
Russian jets speed past US Navy destroyer in 'simulated attack profile,' official says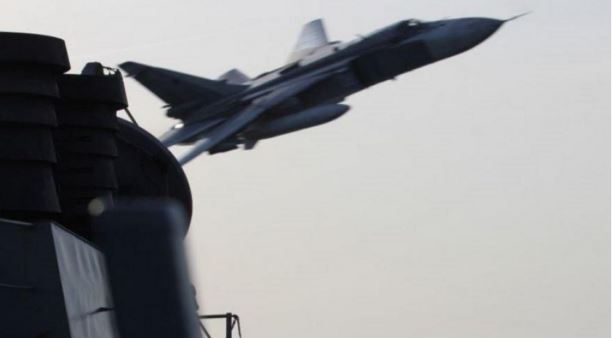 By Lucas Tomlinson
FoxNews.com
Watch Russian warplanes buzz US Navy destroyer in Baltic Sea
Two Russian warplanes buzzed a U.S. Navy guided-missile destroyer in the Baltic Sea in what a defense official called a "simulated attack profile," one of several close encounters between the destroyer and the aircraft this week.
The USS Donald Cook (DDG-75) was conducting flight operations with a Polish helicopter Monday when two Russian Su-24 attack aircraft approached at an "unsafe" speed and altitude and buzzed the Navy destroyer as the helicopter was taking off from the destroyer's flight deck, the defense official told Fox News.
The Russian jets came within 1,000 yards of the destroyer, flying just 100 feet off the ground, a defense official said. The next day, a Russian jet came within just 30 feet of the destroyer, the defense official said.
The United States and Russia have an agreement that dates back to 1972 that is supposed to prevent this type of behavior, according to the defense official. Turkey shot down a Russian jet of the same type in late-2015 after the aircraft entered Turkish airspace.