Too little too late….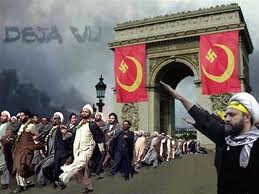 How that country will ever repair itself, and they're still clinging to their socialism, is yet to be seen.
French PM calls for ban on headscarves in universities
Prime Minister Manuel Valls pictured leaving a cabinet meeting recently 
REUTERS/Philippe Wojazer
French prime minister, Manuel Valls has suggested that Muslim headscarves should be banned in universities. His comments, which have cause a massive backlash in France, were made in an interview with French daily, Libération.
Already under pressure over a proposed reform of the labour laws, he said that while he believed it "should be done", the constitution makes imposing such a ban difficult.
Socialist party divisions
However, his remarks have exposed further divisions in the ruling Socialist party with a number of his cabinet colleagues already weighing in to disagree with his comments.
"There is no need for a law on the headscarf at university…Students have every right to wear a headscarf. The headscarf is not banned in French society," Thierry Mandon, the minister responsible for higher education minister said.