The jackasses doing the branding/smearing are more than comfortable with totalitarianism themselves.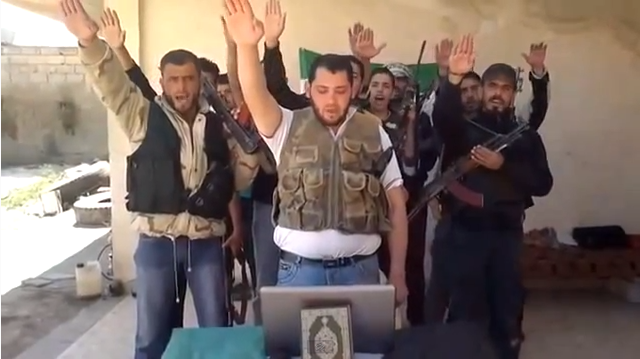 They're statists, those who insist upon enforced unanimity and conformity, radical egalitarianism. That no opposing views other than those which has been first approved by the status quo, shall be allowed. They're of the totalitarian mindset which is at war with the civil society, they do not care what you think, they insist upon cramming their utopian based views down your throat, and if you object they're determined to destroy you.
NOTE: This is the price societies all over the West have been paying for accepting statism (big government i.e. welfare state) as a legitimate and compassionate political force. It's neither.
 German far-right party branded Nazis after saying Islam not compatible with 'basic law'
A GERMAN far-right political party has been branded Nazis after senior members called Islam unconstitutional and "incompatible" with basic laws.
GETTY
Supporters of a right-wing anti-Islam group hold up signs showing a crossed-out mosque
Leaders in the anti-immigration Alternative for Germany (AfD) party have called for a ban on full veils for Muslim women and minarets – towers where people are called to pray typically found near mosques.
Beatrix von Storch, who is also a European Parliament member, claimed Islam is "not compatible worth basic law" and called for tighter control on Islamic teachings in schools.
But the comments from the one of the AfD's deputy leaders have come under fire by the Council of Muslims in Germany, who branded the statements "Nazi".
GETTY
Von Storch made the comments in an interview with a centre-right daily newspaper
Mrs von Starch told the centre-right newspaper Frankfurter Allgemeine Sonntagszeitung: "We are in favour of a ban on minarets, on muezzins and a ban on full veils.
"Islam is in itself a political ideology that is not compatible with the basic law."
A programme put forward by the far-right party also calls for tight control over mosques and Islamic religious schools teaching in Germany.
AfD deputy Alexander Gauland, who leads the party in Brandenburg, added to the controversial calls.
More here. H/T: Servando S