Using the word "Swede" very loosely here……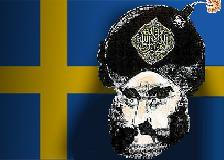 Swede arrested in connection with Brussels attacks
Osama Krayem. Photo: Facebook
Published: 09 Apr 2016 16:50 GMT+02:00
Krayem, 23, previously alleged to have been involved in gang crime in Malmö, is thought to have joined ISIS in 2014 before using a false passport under the name Naim al-Hamed to illegally travel along the migrant route from Turkey to Greece and on to Belgium.
Krayem grew up in Malmö and is of Syrian heritage. A relative in Sweden confirmed to the Swedish Expressen newspaper that they had been spoken to by police but provided no other details.
Another friend of the family told Swedish newspaper Aftonbladet, "He was brainwashed here in Malmö, but we do not know by whom."
In January 2015, the 23-year-old posted a photo of himself on Facebook, dressed in military fatigues and holding an AK-47.
He is believed to be the man seen on CCTV at the City 2 shopping centre, where the rucksacks were bought that were used for the terror attacks.