Alternative headline: "Turkey scams EU yet again in 'one for one' muslim settler ruse"
Migrant Smugglers Shrug Off Turkey's Clampdown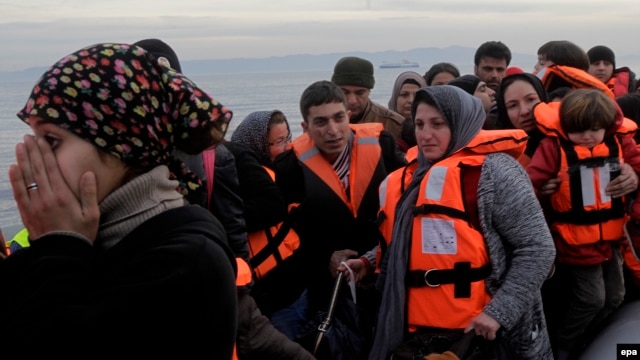 Refugees and migrants arrive by dinghy from Turkey on the Greek island of Lesbos in February. Despite Ankara's crackdown on such transports, people smugglers are confident that it won't have too much of an adverse impact on their trade.
Turkish President Recep Tayyip Erdogan has pledged to clamp down on illegal migration out of Turkey, but smugglers in Istanbul say they have no plans to stop their lucrative trade.
"If Greece is locked, we'll go through Italy," Mouheib, 30, a Syrian smuggler originally from Deir al-Zor, says. "It's a big game. It's impossible things will stop."
He is speaking in an apartment on the second floor of an alleyway in Istanbul's Aksaray neighborhood, where Arabic script advertises falafel restaurants, mobile-phone shops, and travel agencies serving the city's growing Syrian and Iraqi populations. Mouheib, who declines to give his last name as a precaution against arrest, is wearing a tight, blue V-neck shirt, bright blue sweatpants and flip-flops. He has thick black hair and a five-o'clock shadow and is smoking inexpensive Prestige cigarettes.
A shop downstairs still sells life jackets, but smuggling is increasingly switching away from rubber dinghies as Turkish authorities crack down on the trade, he says.
For $1,150, a migrant can attempt the Turkish-Greek land border at Edirne, Mouheib says. For each traveler, he says, $150 goes as a bribe to the Greek police. Half the profits are given to the Turkish mafia to keep the road to the border clear, and the remainder is split between Mouheib and his partner, he adds.