ChanahS: Slamming Jews is not bigotry, and as long as the admin distances itself from staff remarks, everything is cool.
This is exactly what's happening in Finland with Aalto University downplaying prof.Paavo Kinnunen's rabid anti-Semitism.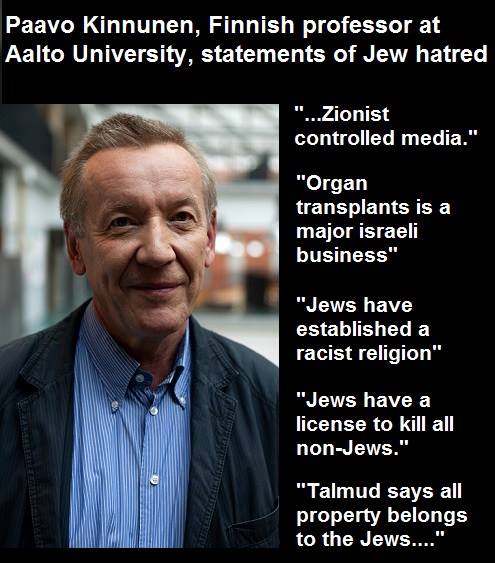 Oberlin Alumni Outraged Over Administration's 'Tepid Response' to Antisemitism at Alma Mater
Anger continued to grow this week after last week's revelation of an Oberlin professor's antisemitic Facebook rants and the college's response to it, particularly among alumni, some of whom returned to the Ohio school Monday and Tuesday to meet with administrators, staff and students and discuss what they consider to be growing antisemitism at the school.
As reported last Wednesday by The Tower, Oberlin Prof. Joy Karega's Facebook page was discovered to be filled with years' worth of posts promoting many traditional antisemitic claims: that Jews were behind the 9/11 attacks, that Jews control the world's banks and own the "news, the media, your oil, and your government." In response to the revelation, Oberlin President Marvin Krislov issued the following statement:
Oberlin College respects the rights of its faculty, students, staff, and alumni to express their personal views. Acknowledgement of this right does not signal institutional support for, or endorsement of, any specific position. The statements posted on social media by Dr. Joy Karega, assistant professor of rhetoric and composition, are hers alone and do not represent the views of Oberlin College.
Criticism immediately followed.
Renowned Harvard Law School Professor Alan Dershowitz told The Tower,
If Karega had expressed comparably bigoted views about Blacks, Muslims or gays, the President of Oberlin would not have posted the boilerplate he posted. He would have condemned those views, even if he defended her right to express them.
Aron Hier, speaking for human rights and antisemitism watchdog the Simon Wiesenthal Center, told The Algemeiner:
There's no contradiction between embracing the First Amendment and calling upon public officials to condemn those hateful, antisemitic and odious forms of speech protected by that very amendment. Hate speech may be protected speech, but university officials have both the right and the moral obligation to call it out for what it is by vociferously repudiating and condemning it.
More here. H/T: ChanahS