This is standard fare, this is who they are, what they do.
The former Sec-Gen of the OIC (largest Islamic organization in the world), Ekmeleddin Ihsanoglu, personally told me in Helsinki, on tape, that there's no such thing as Islamic anti-Semitism.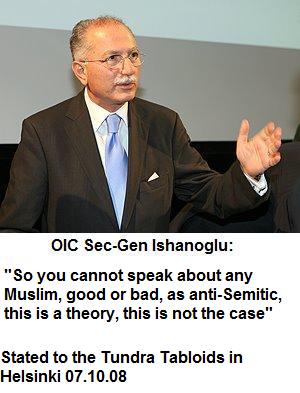 NOTE: Islamic leaders around the world believe the same Jew hating crap and the media cover it up, especially here in Finland.
FLORIDA MUSLIM LEADER SPREADS CLAIM 'HOLOCAUST WAS FAKED'
AMANA Director Sofian Zakkout shares material from website praising Adolf Hitler.
March 13, 2016
Sofian Abdelaziz Zakkout, the Director of the Miami, Florida-based American Muslim Association of North America (AMANA), is advertising on social media a report claiming that the Holocaust perpetrated by Nazi Germany during the 1930s and 1940s was fabricated. This is just one example of many of how Zakkout has belittled and maligned members of the Jewish community and others with the most grotesque manifestations of bigotry – and that's just in this past month!
On February 14th, Zakkout took to Facebook to promote a report questioning the validity of the Holocaust, entitled, 'How the Holocaust was faked.' The piece, which includes gruesome photos of dead bodies piled upon one another, begins, "The alleged 'Holocaust' of '6 million Jews' at the hands of Adolf Hitler and National Socialist Germany during WWII is the biggest lie ever foisted upon humanity."
The piece was produced by The Realist Report, a white supremacist outfit located on the outskirts of San Diego, California that regularly targets Jews, blacks and homosexuals. On the group's website, its viewers are commanded to: "Fight White Genocide. Rise up against the destruction of your race!" while an accompanying video's narrator ominously states, "We are told to accept our inevitable brown future."
In April 2013, The Realist Report devoted an entire page on its website to offer birthday wishes to Adolf Hitler. The page states, "Happy Birthday, Adolf Hitler. You were and remain the greatest leader in modern Western history, and offer unparalleled inspiration and guidance to us all. God bless you, and may you forever rest in peace. Heil Hitler!"