Read my post "JEWS ARE NOT TO BLAME FOR DESTRUCTIVE MULTICULTURALISM, BUT THE FAILED IDEOLOGY OF SOCIALIST STATISM IS…….
There is a trend I've been observing by some in the anti-Islamization / mass muslim settler migration movement, towards blaming Jews for the curse of multiculturalism. I address it in the link above. The following article by Dr.Gerstenfeld is a timely addition to help shed light on this growing phenomenon.
NOTE: This is an article by Dr.Gerstenfeld on how to teach antisemitic stereotyping, where a remark by one Jew is picked up by antisemites who hold all Jews responsible.  It was first published in Algemeiner.
TEACHING ANTI-SEMITISM: A CASE STUDY
Manfred Gerstenfeld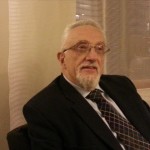 There is major confusion about the nature and range of anti-Semitism today. Most people recognize anti-Semitism when presented in simple statement form, such as calling someone a dirty Jew. Accusing all Jews of killing Jesus, while anachronistic, also falls into this simple, easily recognizable category of anti-Semitism. Jesus lived 2000 years ago. He was killed by the Roman rulers, the only ones empowered to do so, not by the few Jews supposedly present at his crucifixion.
However, it is much harder to identify the essence of some of the anti-Semitism disseminated through social media, a major channel used for this purpose nowadays. It is important to note examples illustrating this particular form of anti-Semitism, which frequently uses stereotyping as its modus operandi. This may be defined in this context as blaming all Jews for the actions or statements of one or a few Jews.
News items, speeches and articles, frequently taken out of their own context are shared on anti-Semitic social media platforms. This snowballs, drawing a host of inciting and violent talkbacks. One extreme case demonstrates the use of stereotyping in social media-disseminated anti-Semitism in recent years. Barbara Lerner Spectre is an American Jew fairly unknown in Europe outside Sweden. She is a founding director of Paideia, The European Institute for Jewish Studies in Sweden.
In 2010 Spectre said in a rather minor broadcast: "I think there is a resurgence of anti-Semitism because at this point in time Europe has not yet learned how to be multicultural. And I think we are going to be part of the throes of that transformation, which must take place. Europe is not going to be the monolithic societies they once were in the last century. Jews are going to be at the centre of that. It's a huge transformation for Europe to make. They are now going into a multicultural mode and Jews will be resented because of our leading role. But without that leading role and without that transformation, Europe will not survive."
Few, if any, European Jewish leaders will share her views, but the relevance of her judgment is not the issue here. Hate promoters picked up the broadcast and shared it en masse, presenting it as proof that Jews intend to take over Europe. Over recent years this broadcast has attracted a barrage of at least fifty, if not many more articles and postings on hate sites and blogs including Stormfront, a large white-supremacist site. Anti-Semitic hate reactions have overwhelmed Google, making it difficult to find any other statements by Spectre using the search engine.
There is a huge need for teaching materials on how to discern anti-Semitism once it goes beyond the direct curse or insult. Stereotyping, double standards, false moral equivalence and the like can only be taught on the basis of case studies, which are both plentiful and easy to find. Recognizing anti-Semitism in all its tactics and strategies is the indispensable first step toward fighting it. Incorporating it into teaching materials is the essential second step.