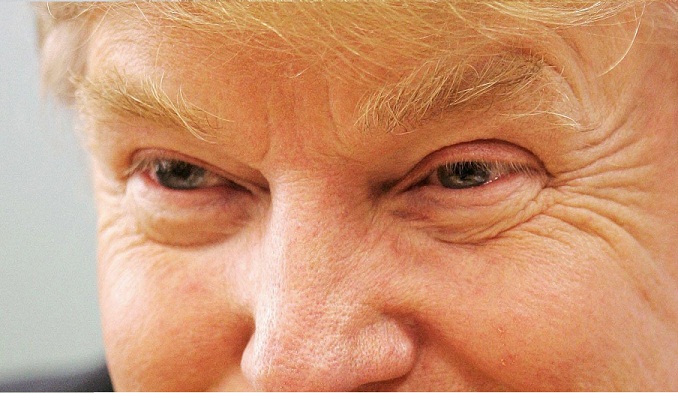 "There may be somebody with tomatoes in the audience," he continued. "So if you see somebody getting ready to throw a tomato, knock the crap out of them, would you? Seriously. OK?" And then, "I promise you, I will pay for the legal fees. I promise, I promise. It won't be so much 'cause the courts agree with us too."
Donald Trump could be charged with inciting a RIOT after violence breaks out at rally
DONALD Trump could face charges of inciting a riot following violence at a rally last week, officials have claimed.
GETTY•HANDOUT
John McGraw (right) punched a protester at a Donald Trump rally
A supporter of the Presidential hopeful was charged with assault after punching a protester at a campaign event last week.
John McGraw is due to appear in court next month following the violent clash in Fayetteville, North Carolina on Wednesday.
And police yesterday said they are investigating whether conduct by Trump or his campaign "rose to the level of inciting a riot".
Trump has refused to accept responsibility for McGraw's sucker-punch, or other acts or violence at his rallies.
But the Republican front-runner and outspoken billionaire has suggested he could pay for the 78-year-old's legal fees.
He told NBC: "I don't condone what he did but I've instructed my people to look into it [paying the fees]."
GETTY
Trump has refused to accept responsibility for the violence
The next time we see him, we might have to kill him
McGraw has showed no remorse for striking Rakeem Jones, 26, and suggested the protester could have terrorists links.
McGraw, who was questioned by the Cumberland County Sheriff's Office said: "Yes, he deserved it."
He added: "The next time we see him, we might have to kill him. We don't know who he is. He might be with a terrorist organisation."