Witnesses felt shockwaves of the blast which are believed to have targeted the American Airlines desk

Moment of explosion
@WarfareWW CCTV footage: The moment of the explosion at the airport of #Brussels pic.twitter.com/X2JifHVi2E

— Warfare Worldwide (@WarfareWW) March 22, 2016
Carnage………..
As the rest of #Brussels is falling into chaos more images are coming from the airport. pic.twitter.com/tZ5Ap6BKwH

— A Moon in White (@Bastille1790) March 22, 2016
Two loud explosions have been heard at a Brussels airport which is being evacuated amid reports of several casualties.
According to reports the blasts centred on an American Airlines desk in a departure hall at around 8am.
Video and images on social media showed smoke rising from an airport building, shattered windows and confused and shocked passengers fleeing to safety. More here.
Brussels Airport on LOCKDOWN: Multiple injured after two explosions rock terminal building
ANTI-terror experts have been scrambled to Brussels airport after two explosions.
IG
Passengers flee the terminal
Unconfirmed reports have said 11 people are dead and at least 20 people are injured.Multiple injuries have been reported and medics are racing to the scene.The large explosions have taken out glass windows at the entrance and much of the airport's ceiling has collapsed.

The cause of the two blasts, which occurred at around 8am this morning at an American airline check-in desk, are unknown at this stage.

There are unconformed reports that a bomb had been placed next to a check-in desk.

The blasts occurred four days after the arrest in Brussels of a suspected participant in November militant attacks in Paris that killed 130 people. Belgian police had been on alert for any reprisal action.
Brussels Zaventem airport rocked by two explosions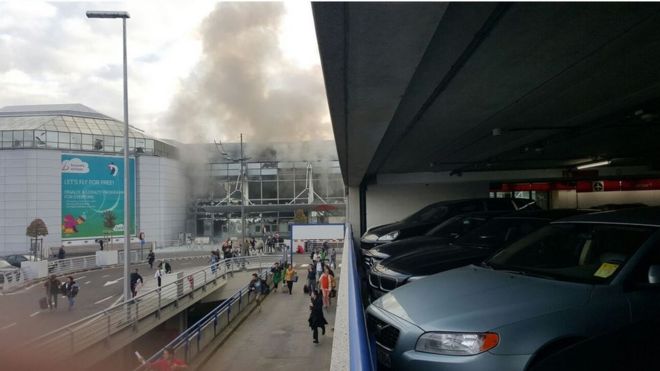 Two explosions have been reported at Zaventem airport in Brussels.
Images on social media from the scene showed smoke rising from one of the terminal buildings. The cause of the explosions is unknown.
Reports say the blasts were in the departures area and speak of casualties although this has not been confirmed.
The blasts come four days after the capture in Brussels of Salah Abdeslam, the main suspect in the Paris attacks in November.
Belgian media say the airport is being evacuated. It has been closed to flights. Rail transport to the facility has been halted.
Social media reports from the scene speak of panic as people fled the airport buildings.
Images showed a swathe of shattered glass on one of the buildings.
Other reports say at least one explosion was close to the American Airlines check-in area but again this has not been confirmed.
The Belgian broadcaster RTBF quoted a witness as saying there were people injured or unconscious in the departure area, opposite the Sheraton hotel.
Niels Caignau, a Swissport employee, told Flemish broadcaster VRT: "I was on a break and heard and felt a big explosion – we have from here a view over the departure hall and saw a plume of smoke come out.
"The windows are completely shattered. People went outside in shock. It doesn't look good."