He's an idiot pandering to anti-Semites for their vote with screwing Israel as a sop.
This is basically what Manfred Gerstenfeld talked about in a piece I posted a few days ago, about blaming Jews for anti-Semitism. Quoting  the late Elan Steinberg, senior advisor to the World Jewish Congress:
"Let's understand things clearly: Anti-Semitism is not caused by Jews; it's caused by anti-Semites. One can certainly be critical of Bush's policy or Sharon's policy, but any deviation from the understanding of the real cause of anti-Semitism is not merely a disservice, but a historic lie."6
Middle-East violence over the past 6 decades is caused by Muslims themselves, with one faction rising up against the other for a multitude of different reasons. Israel has nothing to do with that, only with what touches its own borders. The moronic marxist is a clueless baboon, or cold hearted panderer.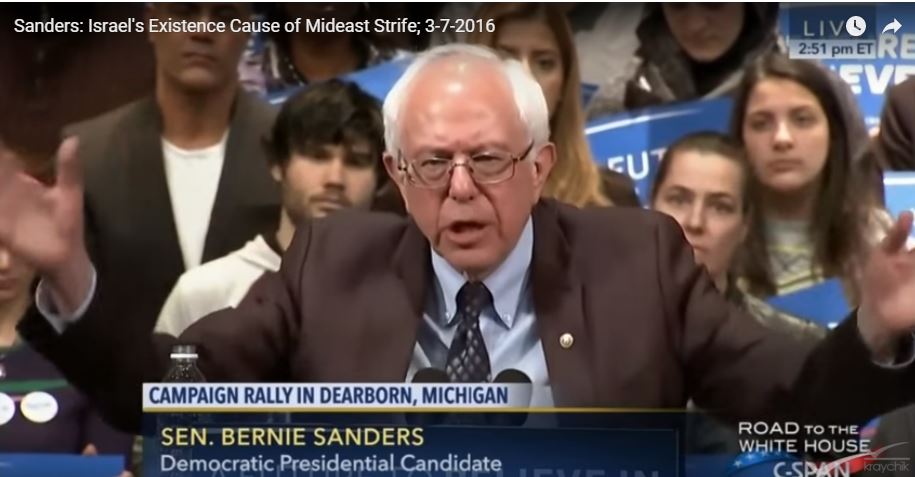 Sanders To Dearborn Muslims: Israel's Existence To Blame For Mideast 'Hatred And Warfare'
[…]
"For decades now, there has been hatred and warfare in the Middle East," Sander said. "All I can tell you is I will make every single effort to bring rational people on both sides [of the Israel/Arab conflict] together, so that hopefully we can have through a level playing field – the United States treating everybody in that region equally – hopefully, and I know that there are people of goodwill in Israel and the Arab communities,"
H/T: Brian of London