A lot of credit for this belongs to many of us in the Counter-Jihad (defenders of classical liberalism) who have been exposing the lies of Swedish (self anointed) elites concerning the problems they alone have created in the building of their socialist nirvana.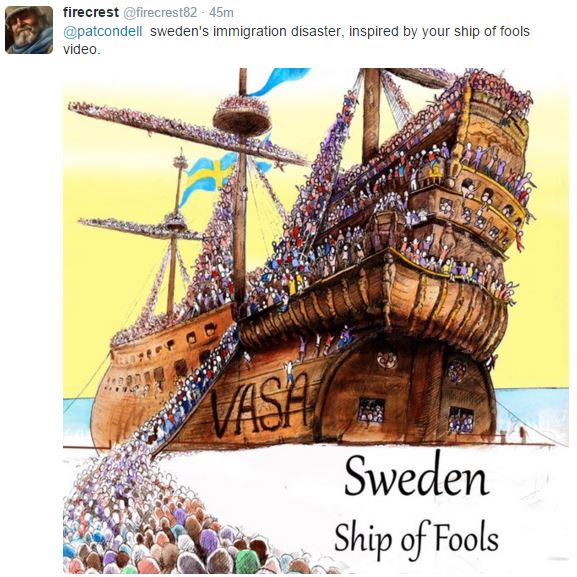 It's so bad, that it's become standard fare for the international media to report on, and now they've (Swedes) begun to take umbrage at the negative (but truthful) press. Just think how they wrongfully maligned Israel all these years, now they get struck between the eyes with actual facts, facts so staggering and frightening, that they just do not know (nor dare) how to respond.
Migrant attacks and a conspiracy to hide the truth in Europe's most liberal country: How Sweden has stopped its citizens discussing the refugee influx 
Unsettling: Groups of men gather outside Stockholm's railway station as commuters hurry past
Stockholm train station is where a 'group of neo-Nazis attacked refugees'
Around the same time as woman, 22, was allegedly murdered by migrant 
Despite reports no migrants have told police they were assaulted at station
If exaggerated, it could have made Swedes less ready to voice their worries
Stockholm railway station isn't a nice place at nine on a winter evening. Smart young Swedes run to catch trains to the suburbs watched by groups of men in hoodies leaning against pillars in the shadows as they swap plastic bags of cannabis or heroin for wads of krona, the national currency.
Occasionally, police in twos and threes patrol through this scene of Nordic Noir as chimes ring from the nearby 16th century St Clare's Lutheran church, with spires piercing the dark sky.
Yet the police rarely stop and no one takes much notice of them anyway. 'I am here to buy cannabis with my friends,' Mustapha Drummeh, a 31-year-old Ghanaian who came to Sweden seven years ago told me, as he hung around the station amid other African and Arab migrants.
Suddenly, his friend, a 43-year-old Eritrean called Mahoud, darts off to dance a circle round two Swedish women in their early twenties, walking briskly by us towards the trains.
The girls, who show no surprise, sidestep him neatly as he tries to pat their bottoms. 'The Swedish women, they're nice,' says smiling Mahoud on his return, unabashed by the rebuff. 'People here are kind to us, but it's difficult without a job, nothing to do, and more migrants arriving all the time.'
Stockholm station is, remember, where a disturbing event happened a few weeks ago. According to Left-wing Swedish newspaper Aftonbladet, there was a violent, unprovoked rampage by a masked mob of neo-Nazis and football hooligans who were targeting migrants, including north African street children. Aftonbladet's reports, based on police information, made newspaper and TV headlines around the world.
NOTE: One of the major reasons why the DailyMail is focusing on Sweden, is not that they have a grudge against Swedes, it's that they want to wake up their own people to the dangers of what Sweden has done to itself, and not to repeat it.
Kent Ekeroth was in Finland last year trying to warn the Finns "not to repeat our mistakes", so the message is out there, but who will be smart enough to heed it?