It's a rigged, losing situation……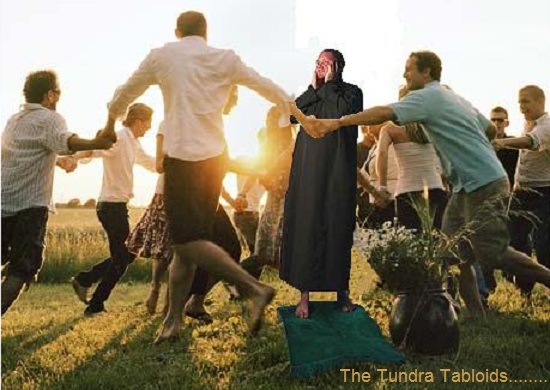 Loopholes used in Sweden, so criminals are not deported
The proportion of foreign nationals who are arrested and convicted, rise sharply while actual expulsions reduced.
New refugees and migrants on their way to the Swedish Migration Board in Malmo, where they must be registered. 
In 2016 160,000 refugees and migrants sought asylum in Sweden. File photo: Finn Frandsen / Polfoto
Sweden is a strange country. We have largely chosen to allow foreign nationals convicted of rape, murder or other crimes to remain in the country – which is probably for the most sensible of people hard to understand. Therefore, the Sweden Democrats (SD) asked to be released updated statistics on that area.
It is grim reading. It shows that the proportion of new foreign criminals in institutions has increased rapidly – from 29 per cent. in 2011 to 41 per cent. in 2015. Remember also that foreigners who subsequently received Swedish citizenship, are not included in these statistics. If you took them, it is not unlikely that this figure would end up well over 50 per cent. Today.
Beneath criticism
Under Swedish law, foreigners who have committed crimes in Sweden face deportation, and it should be of interest for the government to deport immigrants who come here and then commit a crime.
But it has been shown that the proportion of new immigrants sentenced to deportation was as low as 17 per cent. in 2015. It is also a figure that amazingly has gone down since 2011, when the share of deportations after the judgment was at 22 per cent. If we look closely at the numbers, it turns out that the expulsion rate of something as serious as violent crime is even lower – 8 per cent. in 2015 from 12 per cent. in 2011, and rape by 38 per cent. in 2012 to 22 per cent. in 2015.
We thus have a situation where the share of foreign nationals who are arrested and convicted, rise sharply while actual expulsions are reduced. In summary, the situation is beneath contempt.
Outvoted by the other seven
When the SD year after year has proposed in the Swedish Parliament to strengthen the law so that the expulsion becomes the rule and the exceptions are removed – it will be then outvoted by the other seven parties and in addition to that, countered. The liberal former legal policy spokesman Johan Pehrson and Emma Henriksson (Christian Democrats) are two examples of people who argued against SD's proposals.
Prosecutors are part of the problem, and judges another. Today it is up to the prosecutor whether he wants to impose deportation or not. The individual prosecutor selects not to do so – well, so be it, generally does not address the court. In other words, more or less randomly from an individual charges to another to determine whether a rapist should be in Sweden or not.
Debate is relevant today
There are numerous examples. One such case was taken up recently in Ludvika – an Eritrean citizen was sentenced to five years in prison for felony rape. The woman was beaten in the head with a saucepan. The prosecution demanded not even expulsion.
There used a host of exceptions, loopholes and obstacles that an offender should be sentenced to deportation – it is not a sustainable situation and not fair. Sweden today is flooded by immigrants from the Third World, and the proportion of foreigners in prisons is growing dangerously fast. The debate over sex crimes by persons of foreign origin is relevant today.
The lesson of the Swedish situation
Sweden Democrats want to change the current system. We want to deportation should be mandatory, and we demand that exceptions be eliminated or at least drastically reduced to lifetime expulsion should be a general rule, especially for crimes against another human being, and that there should be set up agreements with other countries where deportation can take place for military imprisonment.
Why the other seven Swedish parties would retain 80 percent. of criminal foreign nationals in Sweden, is inexplicable – with our proposal, Sweden will be able to get crime to life – but instead we allow increasingly criminal aliens to remain in the country.
I do not know if the situation is similar in Denmark, but often goes Sweden in front with a bad example. The only positive thing about our situation is that other countries can learn how not to do.