The muslims were planning yet another taharrush-type rape ambush of women in the city's center.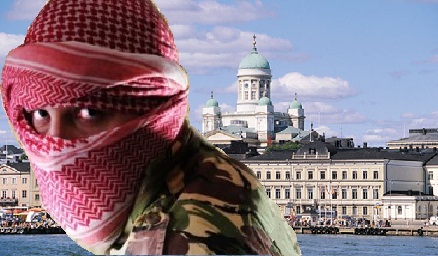 A repeat of New Year's night in Helsinki?

Police: "According to Intel indications are it's harsh things"
HELSINKI Criminal Inspector Juha Laaksonen tells the Ilta-Sanomat, that police confirm strengthening of their presence in the center of Helsinki. Reception centers allegedly circulating alarming messages.
Police on Saturday to confirm a strengthening of their presence in Helsinki. The reason is a fear of events on New Years recurring in the capital.
– On the basis of a preliminary inquiry carried out by the police, they are strengthening presence during the coming weekend in Helsinki's city center, police officer Juha Laaksonen confirmed to the Ilta-Sanomat.
A number of individuals are suspected for sexual offenses on New Year's night. Two of the suspected crimes occurred in public places in the center of Helsinki.
[…]
Laaksonen emphasizes that intelligence suggests it would be possible for a recurrence of what on late New Year's eve. Disturbing messages are allegedly circulating at reception centers, which are asking for a gathering at the three Blacksmiths square and the train station.
The number of police officers increased, details withheld
– At this point, I can not tell, what reception centers the messages have come from, but the intelligence tells that it was harsh things, Laaksonen emphasizes.

This is obviously more than one center, by it Laaksonen speaks of extensive cooperation between the authorities.
– We have been in close co-operation between the police departments of other regions and the various authorities, he says.
Laaksonen emphasizes that what's in question is being prepared in advance.
– We will increase the number of personnel. We aim to combat possible events, he says.
Ilta-Sanomat also asked the Helsinki Kaarlenkatu (Charles Street) reception center if they have any information about the alarming messages.
–  We do not know of any such messages, the center's front office responded to the Ilta-Sanomat on Saturday morning.