Because Europe has sissified itself.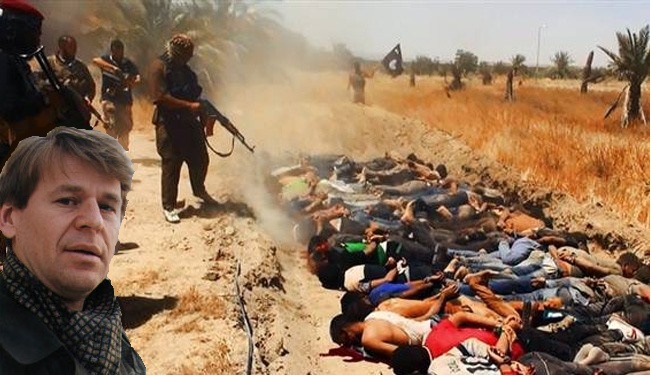 NOTE: So one day, these two pieces of human excrement will be allowed to breath air outside of prison, when in fact, they should be rotting in a grave, unmarked. Also, why is the picture of these two jackals pixelated?
Accomplices of terrorist suspects in Finland receive death sentences in Iraq
published: IRAQ
An Iraq Court sentenced 40 men to death on Thursday for committing a massacre. Their accomplices in crime are suspects being detained in Finland.
In Baghdad Iraq 47 men were accused of involvement in the so-called Speicher massacre in Tikrit, in June 2014. At the time, jihadists, and gunmen allied with them killed hundreds of Iraqi army recruits taken prisoner.
They found 40  of the 47 accused, guilty, and sentenced them to death.
In December, the Pirkanmaa District Court arrested two Iraqi men aged 23, on suspicion of involvement in the same mass murder.
National Bureau of Investigation took the men caught in Forssa. They were, according to IS's information, living as asylum seekers in emergency accommodation unit. The were apprehended on the basis of police intelligence and with the assistance of the Security Police.
The Iraqi twin brothers are accused of murdering unarmed 11 prisoners who were prisoners of the Isis organization in connection with the so-called Camp Speicher mass executions in Tikrit in June 2014.
According to the Ministry of Justice the Iraqi brothers may not be released to anyone in Iraq, even though the country should issue an official request.
– We know that Iraq has the death penalty in force and it is also actively used, said the Ministry of Justice justice Juhani Korhonen to IS in December .
– That is, if these brothers would be threatened the death penalty, you could imagine based on that, what has been read in the magazines, that Finland will not hand them over. The ninth article in the Constitution fourth paragraph, prohibits the handing over of alien to a country where they risk the death penalty, Korhonen made ​​it clear at that time.