The Greeks cry foul, but they have the same means available as the Australians.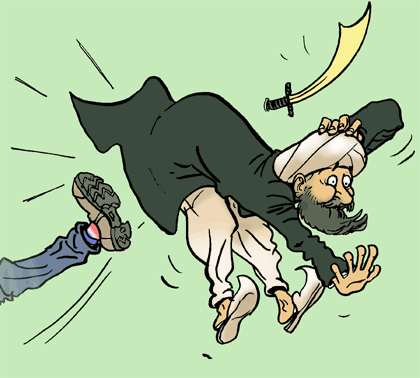 They should take their entire navy and coast guard and actively turn back each and every boat that they come across, and then destroy the vessel after its occupants have disembarked on safe shores.
The Great Wall of Europe: Hungary splits continent in two with huge fence to stop migrants
HUNGARY is set to split Europe in two by building a huge network of fences along its entire southern border in a desperate bid to stop the flow of illegal immigrants.
GETTY/GOOGLE
Hungary is set to build another huge border fence to keep out migrants
No-nonsense prime minister Viktor Orban today announced plans to construct an enormous 280-mile long razor wire barrier which will completely seal his country off from southern Europe.
The fence will join up with those currently deployed along Hungary's borders with Serbia and Croatia to create an impregnable barrier to migrants headed north towards Germany and Scandinavia.
Mr Orban has styled himself as a defender of Christian Europe, repeatedly ignoring pleas from European Union (EU) bureaucrats to open up his country's borders to millions of migrants.
He insists that Hungary is protecting the rest of the continent from the refugee flow by building a shield which will deter migrants from making the journey.
The fence, along the border with Romania, will create an enormous barrier cutting off northern Europe from the Balkans below. Once it is completed migrants will only be able to travel further into the continent by squeezing through tiny Slovenia, to the West, or risking the trek through war-torn Ukraine, to the East.
The latest plans are bound to infuriate Brussels further, with Hungary already under pressure for its controversial deportation system which can see asylum seekers booted out of the country within hours of arriving.
GETTY
Viktor Orban announced the plans to fence off Hungary's southern border with Romania
GOOGLE
The fence will create an enormous barrier sealing off the central Europe from the Balkans