Soldiers of Odin group marched in a counter protest in Tampere on the same day.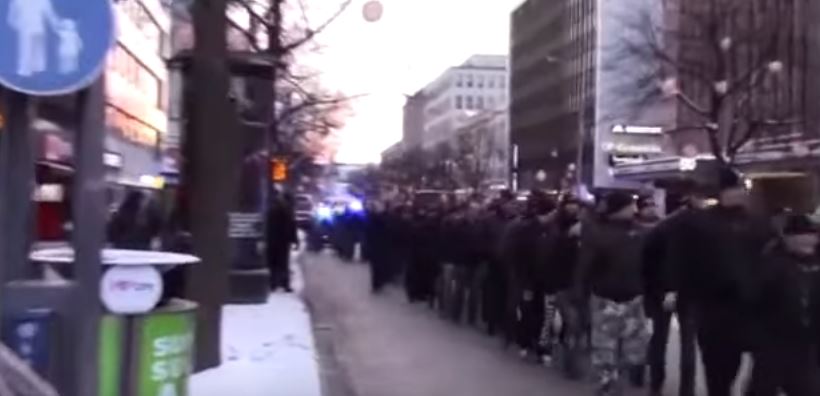 Safe Passage march in Helsinki to "defend human dignity"
About 300 people gathered in Helsinki on Saturday afternoon to march in support of asylum seeker and refugee rights as part of a global Safe Passage demonstration held in countries throughout Europe, Canada and the USA.
About 300 people gathered at the Kamppi square in Helsinki's city centre on Saturday to peacefully demonstrate for asylum seeker rights. Participants also seemed to share a common concern about the rise of racism and inequality in Finland.
"I'm here to try and defend human dignity. There's a surprising amount of racism rising to the surface lately in Finland, like the kind we saw in the 1930s when people were being separated into groups according to their colour, religion or birthplace," said one marcher, Carl-Magnus Blomberg.
Riina Solantaus agreed with him.
"We must protect and help people. I'm really worried about how much racism there is in this country. People are escaping dreadful conditions and have been forced to leave their loved ones and their country, and then they come here and are harassed," she said.
Mira Kelahaara has noticed that people aren't as eager to participate in demonstrations as they were before.
"I've been following the 'Close the Borders' demonstrations from the sidelines and it is some pretty ferocious stuff," she said.
Salla Hagelberg hopes the Helsinki demonstration will give more Finns the courage to support refugees, despite contrary opinions.
"I hope the Finns stand strong. I hope this will show that must defend each and every human, especially those in the greatest need."
Meanwhile in Tampere…
About 150 people joined a procession of anti-immigrant Soldiers of Odin group members in Tampere, another large city about two hours north of Helsinki. The group marched down the main shopping street of Hämeenkatu to the Tampere Railway Station.
Local police report that they were not informed of the march ahead of time and that it was called in remembrance of a group member who had recently died.
Both events proceeded peacefully.
Here is a video of their marching, looks like a lot more than just a 150 people YLE is claiming, looks closer to being around 300.