They're digging in their heels, but they don't realize that Aussie Dave has already dug his in long before they did.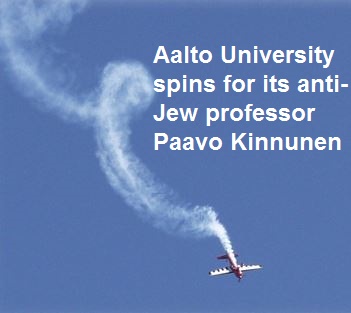 Have Aalto University Given Their Antisemitic Professor Paavo Kinnunen A Free Pass?
Following my expose of antisemitic professor Paavo Kinnunen, many of you and others flooded Aalto University's Facebook page with demands they take action. In addition, fans of Kinnunen left their own comments, standing by their man while claiming he is not antisemitic, just critical of Israel(!) Some even threatened to sue me.
Let them try. I stand behind my post, comprising of Kinnunen's own posts which are clearly antisemitic. I am sure any court would find in my favor.
And how did Aalto university respond? It seems as though they asked him to unequivocally state his views are entirely his own – as he did on his Facebook page.
They mirrored this distancing from his views, in the comments to my post but also elsewhere.
Other than that, it seems like he may have escaped serious punishment.