We are under no moral imperative to import tens of thousands of American/western loathing antisemites.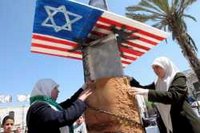 Do we really need to take advice from lefty blowhards like Looney? No.
George Clooney: U.S. Not Taking in Enough Syrian Refugees, We Need to 'Do More'
Thursday night at the Berlin film festival premiere of "Hail, Caesar!" actor George Clooney told Sky News the United States is not doing "enough" to help with the Syrian refugee crisis.
Friday morning Clooney had a meeting with Germany's chancellor, Angela Merkel, to discuss what more Hollywood could do to help.
Clooney said, "The United States needs to do more as we know, 10,000 refugees a year is not enough, that's clear."
H/T: Sheik Yer 'Mami: "Clooney rhymes with looney. He parrots whatever his Afghan Muslim wife whispers in his ears"
NOTE: Warren Raymond says: Here are some fast facts on Amal Alamuddin:
1. Alamuddin, 36, was born in Beirut, Lebanon, and studied law at Oxford University and the New York University School of Law, according to a bio posted by NYU. Now based in London, she is fluent in French, Arabic and English.
2. In 2011 she began to represent WikiLeaks founder Julian Assange in his fight against extradition by Sweden.
3. Amal has been appointed to numerous U.N. commissions and is an adviser to former United Nations Secretary-General Kofi Annan on Syria.
4. Alamuddin worked as a student law clerk for now-Supreme Court justice Sonia Sotomayor, who was then a judge at the U.S. Court of Appeals for the Second Circuit.
5. Her mother, Baria, 66, is the foreign editor of Arab newspaper al-Hayat. Her father Ramzi, a retired professor of business studies at the American University of Beirut, returned to Lebanon in 1991.
6. Alamuddin has been appointed to a number of UN commissions including as adviser to Special Envoy Kofi Annan on Syria, and as Counsel to the Inquiry launched by UN human rights rapporteur Ben Emmerson QC into the use of drones in counter-terrorism operations. She has been involved in many high-profile cases, representing the state of Cambodia, the former Libyan intelligence chief Abdallah Al Senussi, Yulia Tymoshenko and Julian Assange.
7. She is an adviser to the King of Bahrain in connection with the Bahrain Independent Commission of Inquiry.
Bottom line is this: Alamuddin may have the beauty and the brains but she is deeply connected in a way that America should be paying attention to this whirlwind romance that has swept one of the most eligible bachelors in history off his feet and into a super fast engagement. When someone influential in Hollyweird marries someone with these connections, a flag in your head should go up.