Marco has a lot of 'splaining' to do…..
Phyllis Schlafly Issues Rubio Betrayal Memo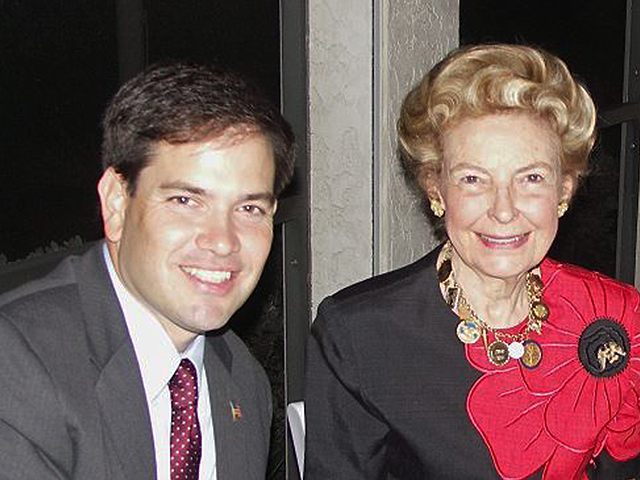 Conservative icon and grassroots heroine Phyllis Schlafly has released a new report extensively detailing Sen. Marco Rubio's (R-FL) 79% efforts to deceive the American people in his determined pursuit to open the nation's borders.
Schlafly's 15-page report on Rubio's "betrayal" provides hyperlinked sources to document Rubio's "big con."
Schlafly's memo warns the American people that Rubio's push to deliver globalist immigration policies for his donors is not finished. "There is likely no person in the United States of America in a better position to enact mass immigration legislation than a President Rubio — no one who could deliver more votes in both parties for open borders immigration," the memo states. "Senator Rubio is not Main Street's Obama, he is Wall Street's Obama: President Obama was a hardcore leftist running as a centrist; Senator Rubio is a Wall Street globalist running as a tea party conservative."
The report is broken up into more than a dozen subsections, including "LYING TO CONSERVATIVE MEDIA," in which Schlafly details how Rubio made countless false promises to Rush Limbaugh, Sean Hannity, Mark Levin, National Review, and others. "Rubio traded shamelessly on the affection and trust conservatives had placed in him," the memo states. "His deceptions about his immigration bill rivaled and exceeded Obama's claims about disastrous Obamacare."
Although in recent months, many of National Review's writers have sought to boost Rubio's candidacy, the memo later notes that "National Review has never received an apology for being repeatedly lied to by Rubio." The memo reports, "To this day, Rubio has not only never retracted one of his false statements — never admitted any wrongdoing — but never even apologized to those he deceived, and their millions of listeners. Instead, he is raising more money and telling the same lies all over again, as he continues his push for mass amnesty and mass immigration."
Another subsection of the memo entitled "AMERICAN WORKERS CAN'T CUT IT"states: 
In a for-attribution interview with Ryan Lizza, two senior Rubio staffers expressed frustration that they couldn't get even more foreign workers crammed into the bill for their boss.  They explained:

'There are American workers who, for lack of a better term, can't cut it.'

Rubio's spokesman — now his campaign spokesman — also compared opponents of amnesty to slaveholders. More on that here.
The memo also documents the back-room deals involved in the bill. A subsection entitled,"IMMIGRATION-FOR-PROFIT" reports that "Rubio's lawyer, who wrote the bill, also enriched his clients through it."