The result of statist (socialist) politics which paves the way for (their own) knuckle draggers to take to the streets. 
We've warned about this endlessly, if governments refuse to act, nefarious elements, who see their own 'entitlements' at risk, will take to the streets eventually. The classic 'left-right' fight is on the socialist side of the aisle, we, who adhere to enlightenment based philosophy are on the outside watching with horror the destruction of their societies by this toxic mix.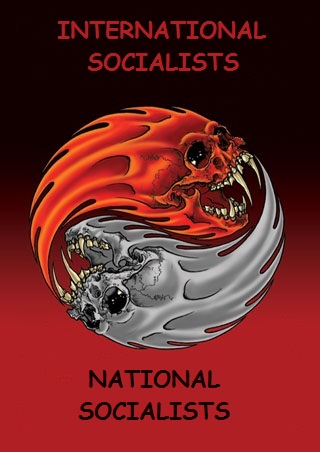 EXCLUSIVE: Neo-Nazis thugs warn of a 'year of violence' following attacks on child migrants at train station in Sweden
Violent: Convicted killer Klas Lund is the founder of Sweden's neo-Nazis and has also been jailed for bank robbery, assault and possession of an illegal weapon. He killed campaigner Ronny Landin when he intervened to stop an assault on three immigrants in Nynashamn in 1986 but has seen a chilling rise in popularity following concerns over the influx of migrants
Anger at open-door immigration and asylum policy is consuming Sweden
Anti-immigration Sweden Democrats now Sweden's biggest political party
Sweden always had a reputation for being a liberal and unbiased country
A dark history of right-wing politics has been exposed by recent uprising
Even Ikea and the nation's monarchy have been implicated in the far-right
Neo-Nazi thugs in Sweden last night warned of a year of violence against immigrants as the so-called 'liberal' state was forced to confront a new wave of support for the far right.
The extremist Swedish Resistance Movement (SRM) hailed the racist mob that attacked 'foreign-looking' men, women and children at Stockholm's Central Station 'heroes' last week, describing them as modern 'Robin Hoods'.
It comes amid rising anger at the nation's 'open door' policy on immigration – and concern that the influx of migrants is fuelling the growth of the far right.
A recent poll found that the Sweden Democrats, an anti-immigration group with a neo-Nazi past, have become the country's biggest political party with 28.8 per cent of the vote.