With the long haul ahead though…..
Cruz Draws First Blood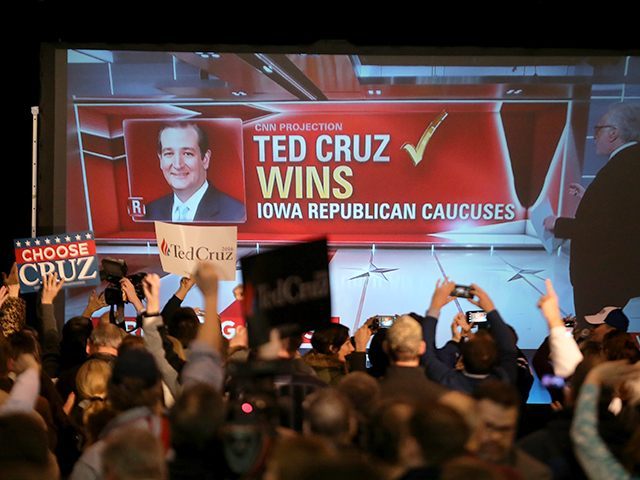 On Monday, Senator
Sen. Ted Cruz (R-TX) 
97% performed the singular feat of simultaneously proving that a Republican can win Iowa without backing the ethanol boondoggle, and toppled The God Who Does Not Bleed, Donald Trump. Meanwhile, Senator 
Sen. Marco Rubio (R-) 7
9% finished stronger than expected, beating poll estimates by six percentage points; Trump finished more than four percent below expectations, while Cruz finished nearly four percent above expectations.
Naturally, the media rushed to declare Rubio tonight's big winner.
That's nonsense. Cruz, the most consistent conservative in the race, was the big winner. Bronze isn't gold. And as Trump has tweeted:
"No one remembers who came in second." – Walter Hagen

— Donald J. Trump (@realDonaldTrump) December 30, 2013
Cruz had to win Iowa in order to remain competitive in future states. He dealt Trump a blow that will test Trump's mettle, and withstood The Donald's biggest campaign haymakers in order to do it. He beat back a media assault on him that ranged from his birthplace to his Goldman Sachs connections. "Iowa has sent notice that the Republican nominee…will not be chosen by the media, by the establishment, or by the lobbyists," Cruz said.
We can only hope that's true going forward.
What's more, Cruz utilized a serious ground game and data plan to pound out a victory over a candidate with significantly more media exposure. Some may say that makes Trump look strong – he didn't utilize the same resources. But that actually just demonstrates that boots on the ground always defeat an air-only campaign. As Cruz put it in his victory speech, "Tonight is a victory for the grassroots." And Cruz worked those grassroots.
Cruz isn't done yet, either. Unlike Mike Huckabee in 2008 or Rick Santorum in 2012, he has the resources to run a long, grueling campaign before he even begins. His campaign has $19 million on hand, more than any other candidate. He's running second in South Carolina already to Trump, who will take a polling hit there. He's currently tied for second in New Hampshire, and unhampered by the four-way crab pot that is the establishment lane. Should Trump hit the skids, Cruz will be right there to pick up the pieces – as he should be, given that he's the man who put Trump on the mat.