Anything that's actually good for America, he stonewalls.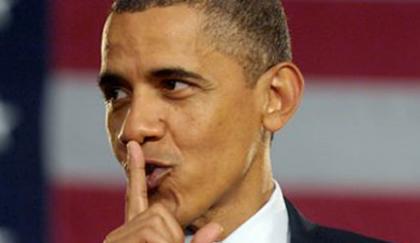 Obama Admin Stonewalling Investigation Into 113 Terrorists Inside United States
Free Beacon report sparks investigation (UPDATED
BY: Adam Kredo

Leading senators on Monday petitioned multiple Obama administration agencies to stop stonewalling a congressional investigation into the immigration histories of at least 113 foreign-born individuals implicated in terrorist operations after legally entering the United States, according to a copy of the letters.
The latest investigation comes just days after the Washington Free Beacon disclosed that an additional 41 foreign-born individuals who legally entered the United States had been arrested for planning a number of terror attacks.
Sens. Ted Cruz (R., Texas) and Jeff Sessions (R., Ala.) disclosed Monday that they had been pressuring the Obama administration for months to disclose the immigration histories of these foreign-born individuals implicated in terror plots.
Agencies including the Departments of State and Homeland Security have stonewalled these efforts, declining since mid-2015 to provide Congress additional information. This move has prompted speculation among lawmakers that the administration is withholding information to prevent the exposure of major gaps in the U.S. screening process for new immigrants.
"The American people are entitled to information on the immigration history of terrorists seeking to harm them," Cruz and Sessions wrote to the secretaries of State and Homeland Security and the attorney general.
Similar requests for information issued sent in August and again in December have not been answered by the administration
The letter cites a recent Free Beacon report detailing that an additional 41 foreign-born individuals had been snagged on terrorism-related charges since 2014. The disclosure of these previously unknown accused terrorists brings the total number of foreigners brought up on terrorism charges to 113.