Ignoramus boobus maximus….
And of course the Muslim Brotherhood (HAMAS) front group CAIR is ginning up the incident, even demanding Trump to apologize. It's like Erdogan demanding an Israeli apology for defending its shores from the Islamonzis he sent to break the legal anti-weapons embargo on Hamas in Gaza.
Kasich Decries Trump Supporters That Booed Muslim Protester — 'That's Just Not the Way to Behave'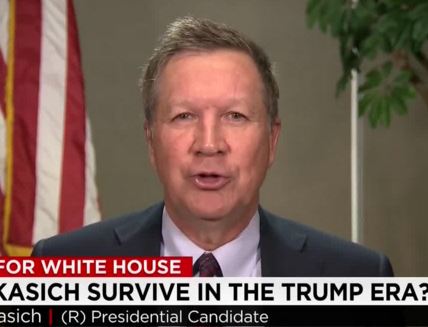 Saturday on CNN's "Smerconish," host Michael Smerconish asked Gov. John Kasich (R-OH), a candidate for the 2016 Republican nomination, about an incident at a Donald Trump rally a day earlier involving a Muslim woman being ejected from the rally for protesting and the crowd's reaction to it.

Kasich criticized the crowd and warned of driving Muslims away with such actions.

"Terrible," Kasich said. You know, we are not a country that — you know, a country that feels good about insulting or yelling at people, or demeaning people.
If there were any demeaning going on, it's the idiots trying to co-opt the Star of David emblems from the Nazi era Jews were forced to wear for more easy to identification for final solution, genocide.
These morons are the co-religionists of the fevered adherents worked hand in hand with Hitler's Nazis in exterminating the Jews, and they dare appropriate the symbol, or the idea of the symbol, to portray themselves as victims. Truly disgusting.
NOTE: The idea of color coding Jews (and Christians) was in fact an Islamic invention, so they have really gone back to their own roots.
NOTE II:The morons who didn't protest, like these two, were not ejected.