Once again, we need to rid ourselves of these Muslim Brotherhood operatives in our societies. It's like the German National Socialists during WWII, or the Marxist USSR during the Cold War having its own PR group running circles around government officials and infiltrating our institutions (the latter did just that) to influence policy.
U.S. Education Department Warns Schools Against Discrimination Toward Muslim and Refugee Students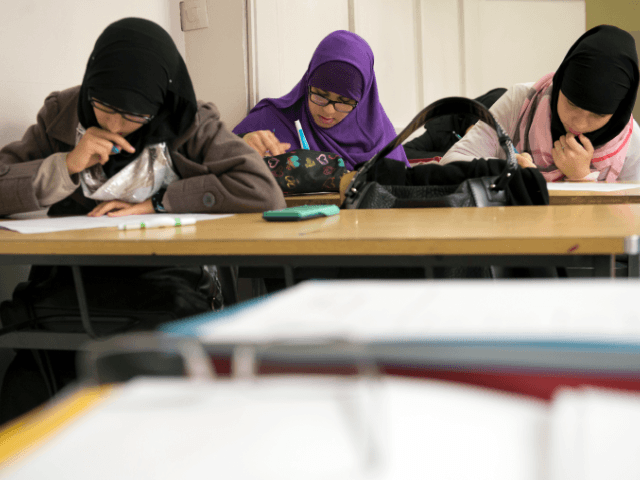 A "Dear Colleague" guidance letter, signed by former U.S. Education Department (USED) Secretary Arne Duncan and Acting Secretary John King, warns school leaders against "targeting of particular students for harassment or blame," particularly Muslim and Syrian refugee students.
According to the Washington Post, the guidance letter comes following a 2014 survey conducted by the Council on American-Islamic Relations (CAIR)—of Muslim youth aged 11-18 in California—that found 55 percent of Muslim youth reported being "bullied" at school because of their Islamic religion during this past year.
"This is twice as high as the national statistic of students reporting being bullied at school," CAIR reports. "Many students experienced multiple types of bullying; however, the most common type of bullying American Muslim students faced was verbal at 52%."
As Breitbart News has reported, while CAIR portrays itself as a civil rights group, the organization has often embraced radical Islamist groups such as the Muslim Brotherhood.
The USED guidance letter—dated December 31, 2015, but embargoed until Monday, January 4, 2016—said: "[W]e are writing to enlist your help, as educational leaders, to ensure that your schools and institutions of higher education are learning environments in which students are free from discrimination and harassment based on their race, religion, or national origin."
The letter continued:
We support your efforts to ensure that young people are not subjected to discrimination or harassment based on race, religion, or national origin, particularly at this time when fear and anger are heightened, and when public debate sometimes results in the dissemination of misinformation. Such inappropriate conduct in schools can take many forms, from abusive name-calling to defamatory graffiti to physical violence directed at a student because of a student's actual or perceived race or ancestry, the country the student's family comes from, or the student's religion or cultural traditions. If ignored, this kind of conduct can jeopardize students' ability to learn, undermine their physical and emotional well-being, provoke retaliatory acts, and exacerbate community conflicts.

We cannot permit discrimination or harassment in schools against students based on their actual or perceived race, religion, or national origin, because parents and students look to you for leadership, their hearing from you that such conduct is unconditionally wrong and will not be tolerated in our schools will make a real difference. In response to recent and ongoing issues, we also urge you to anticipate the potential challenges that may be faced by students who are especially at risk of harassment — including those who are, or are perceived to be, Syrian, Muslim, Middle Eastern, or Arab, as well as those who are Sikh, Jewish, or students of color. For example, classroom discussions and other school activities should be structured to help students grapple with current events and conflicting viewpoints in constructive ways, and not in ways that result in the targeting of particular students for harassment or blame.
In mid-December, State Department official Anne Richard testified before the House Oversight and Government Reform Committee, "Four percent of all the Syrians we have brought have been Christian or other minorities."
As CNSNews.com reports, only 53 of the 2,184 Syrian refugees admitted to the United States since civil war broke in Syria in 2011 are Christians, while 2,098 are Muslims.