The koran…..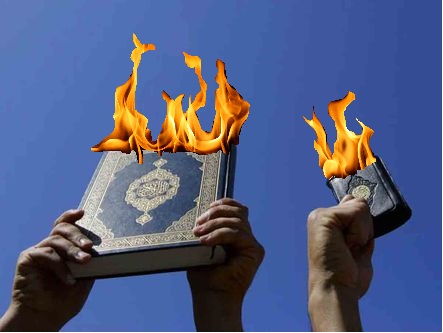 Interestingly enough, no other religion has problems with their school books being condemned for advocating stoning of people.
UK Muslim School Fails Inspection Over Pro-Stoning Books
(Photo: © Clarion Project)
A Muslim school in the UK failed governmental inspections after textbooks endorsing death by stoning and gender inequality were found in the school library, according to The Daily Mail.
Three books which "undermine the active promotion of the rule of British law and respect for other people" were reportedly found by the inspectors at Jamiatul Ummah School in East London. The school is a fee-paying, all-boys secondary school.
The books were said to "promote inequality of women and punishments, including stoning to death, which are illegal in Britain and which do not reflect the school's ethos and integration" by the official Office for Standards in Education (Ofsted) report.
An audit of "outdated, irrelevant or unsuitable material" has now been put in place by the school principal.
More here. H/T: Vlad