The authorities have not made a big commotion over sharia patrols by the Somali community in keeping Muslim females off the streets in Helsinki:
"We do not run into girls often this late. It would be shameful for them to run into us in the street. They do not want to lose face in front of their community."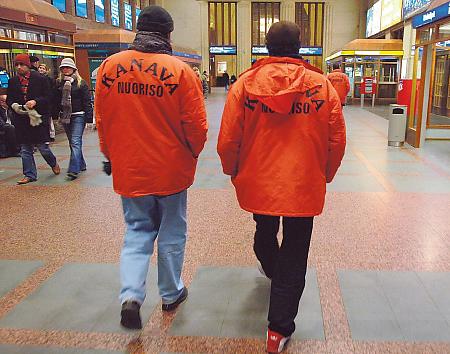 According to the FB page: Soldiers Of Odin are not:
– A racist group.
– A nationalist socialist movement.
– A drug gang
– A motorcycle gang.
– A syndicate.
"RIGHT WING EXTREMISTS"? INSIDE FINLAND'S SOLDIERS OF ODIN STREET PATROL
Their vice president told me "The media [slanders] every immigration-critical group. Of course it is not nice, but what can you do?" Other group members have shared similar sentiments. I've seen nothing to suggest that the Soldiers have any kind of malicious motive.
The group has stated it has zero tolerance for behavior that strays outside of their guidelines, which mandate cooperation with police and prohibit violence.
Despite their neo-pagan name, the Soldiers of Odin seem to be the picture of moderation. They've made it clear that the group will not tolerate extremist or illegal actions.
Unfortunately, lawmakers don't care if their narratives are out-of-sync with reality. Legislation is already in the works to ban street patrols.
Governments don't want to address the problems posed by mass immigration, and focusing on anti-immigrant groups is a good way to keep people distracted.
This, of course, comes during the largest wave of displacement-driven immigration in Europe since World War II. Migrant crime is surging, and Europe's demographics are rapidly shifting. Finland has been affected particularly badly.
The issues presented by migration are enormous. Finnish police have reported that they are systemically understaffed. A spate of migrant sex assaults have recently made headlines in the country.
More here. h/t: Vlad