We can now safely assume that the boy is still being repeatedly raped.
There's a history of Swedish police being routed, March 2014: Sweden: Police humiliated and beaten up in Muslim area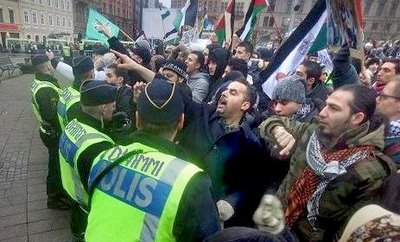 Police flee for their lives at Swedish migrant camp after they are surrounded by screaming mob as they try to relocate ten-year-old boy 'who had been raped multiple times' 
Swedish police, file pic, were forced to run away when they were attacked by a mob at the asylum centre
The attack allegedly happened in the town of Västerås in central Sweden 
Staff at the refugee centre feared the 10-year-old boy was being abused 
They failed to remove the child after the refugee would not let the child go
Ten police officers failed to safe the child after being attacked by the mob
See more news on the migrant crisis at www.dailymail.co.uk/migrantcrisis
Swedish police were forced to run for their lives after being attacked by a mob of asylum seekers as they tried to relocate amid allegations a 10-year-old boy had been 'raped repeatedly' at a refugee centre.
Officers entered the centre in Västerås to save the young boy who had been reportedly attacked repeatedly by asylum seekers at the centre.
Initially, staff in the centre tried to remove the boy but were stopped by the mob. Instead the staff called police for backup.
The incident happened last week in Västerås, pictured, after authorities received reports that a 10-year-old child was being abused repeatedly at the refugee centre in the city, but were unable secure the youngster
One of the officers told the Vestmanlands Läns Tidning newspaper: 'Even more people appeared behind us. I was mentally prepared to fight for my life. We were 10 police officers in a narrow corridor. And I hear someone yell that there is an emergency exit.'
The incident happened last Wednesday, before a 15-year-old asylum seeker in Sweden was accused of murdering a girl working in a refugee centre.