Send in the clowns……..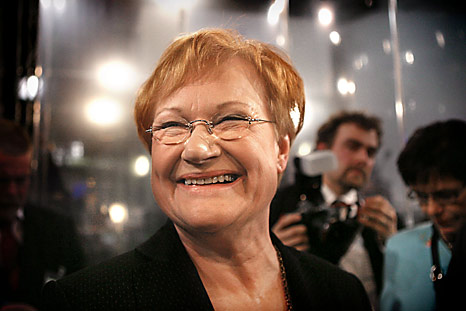 Halonen has just been named the supervisor for the monitoring of ethical principles of the Reuters news agency by the company's Board of Directors.
[Tundra Tabloids: Hard core Leftist monitoring the ethics of the fake journos at al-Reuters. Brilliant idea.]
Halonen also commented Channel 1's morning show (Ykkösaamu) on the recent Cologne harassment case and criticized the authorities there, who "responded really slow to women's complaints".
– They (the perpetrators) come from a society in which the free movement of women and with less clothing, is a new thing, but it is something that they themselves should take into consideration and influence from society is extremely important.
[Tundra Tabloids: So importing these people to Finland is some kind of socialist "hands on training" in getting them to behave like normal people? They really couldn't care less about the civil society, it's their own personal sandbox to tinker with. What a loathsome individual.]
– It may also be other local action groups and even criminals who are attracted and exploiting the area, Halonen warned.
Concerning defense of women's rights
The discussion also touched on the Helsinki station tunnel episodes on the New Year's Eve.
In Halonen's view, it is important that the police or security staff quickly comes to the scene. She mentioned also as possible solutions, as safety phones and so-called Safety Spots, where one can go.
– Oh, pull out a cell phone and simply start yelling. I am not a specialist in this field, but this advice was, when I was a girl. This is not quite brought on by immigrants, we also have our own evil tradition, which (thankfully) has been dealt with, she emphasized.
 [Tundra Tabloids: Believe me when I say, a lot of water has gone under the bridge since this radical Leftist was a "little girl", there were no cell phones to pull out and shout into. Also, bringing rape into the streets (there never has been anything like this in Finnish history) says little for the human rights groups and feminist movement. Dolts.]
– Women's rights in the Nordic countries is centuries old and it needs to keep being renewed over and over again. Don't touch or verbally abuse, Halonen emphasized.
NOTE: Again, this crackpot of a former president belongs to a party that has championed failed multicultural policies, has helped bring people here who have committed atrocities against ethnic Finns. I wouldn't be surprised that she privately agrees with Japanese citizen movements who want to rid Okinawa of the US military base that's been there since the end of WWII, due to the occasional criminal behavior of US soldiers. It would make her a hypocrite, but that wouldn't bother her at all now would it?
From Vlad: