Europeans are tired of dancing to Schmerkel's islamophile tune.
'Protect Your Women, Not OUR Democracy!' – Polish Sports Fans Protest German EU Bully Tactics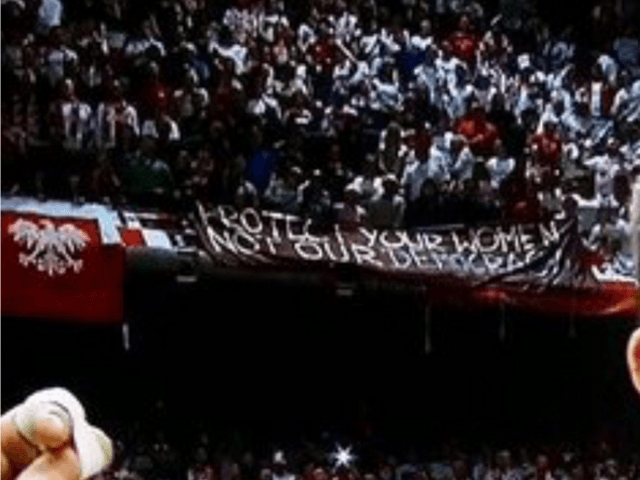 During a volleyball match between Poland and Germany last night, Polish fans unfurled a giant banner reading, "Protect your women, not our democracy!" They were referencing the New Year's Eve sex attacks and recent European Union (EU) threats to suspend Polish voting rights due to actions of their new right wing government.
The Polish men's volleyball team lost the qualifying game for the 2016 Olympics 2 – 3 on Friday. However, some fans walked away from the Berlin match feeling as if they had won a minor political victory.
Polish sports fans have form when it comes to making bold statements regarding mass migration and EU authoritarianism at prominent fixtures. Football (soccer) fans unveiled an enormous anti mass migration banner at game in November, blaming the EU for importing terrorism into Europe following the Paris attacks.
Conservative factions in the country are similarly repulsed by the mass sexual assaults on New Year's Eve, perpetrated mostly by migrants and refugees. The Polish volleyball fans, it seems, place the blame firmly on the shoulders of Angela Merkel for inviting 1.5 million unchecked migrants into Europe this year.
@20committee Polish volleyball fans, today, during a game Germany vs. Poland pic.twitter.com/qj9qFRyD1E

— Marek Anthony (@Anthony_Marek) January 9, 2016