A truly obnoxious, sanctimonious jackass of a FM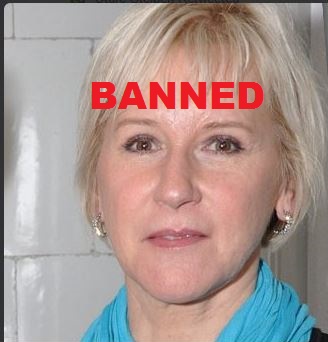 The SDP and the rest of the Swedish political elite are just as bad
Sweden's Walking Diplomatic Disaster
"It is a shame for Sweden to have a Foreign Minister who creates a diplomatic crisis as soon as she opens her mouth, and who so one-sidedly allies herself with anti-democratic forces against Israel, the only democracy in the Middle East." — Political analyst Mathias Sundin, in Aftonbladet.

"Wallström portrays [Palestinian President Mahmoud] Abbas as a pacifist who has denounced terrorism…. He has not condemned a single one of the murders of 20 Israelis during the last few months. On the contrary … Abbas said in September, regarding the violence against Israelis, that 'We bless every drop of blood spilled in Jerusalem', and we know that every Palestinian assassin apprehended by Israel is rewarded by the Palestinian Authority. So how can Wallström claim that he denounces terrorism, when he is actually rewarding it with money from the Swedish taxpayers? … Is Wallström aware of the praising of terrorism? Is Wallström aware of the rewards paid to terrorists? Yes or no?" — Kent Ekeroth, Sweden Democrats Party.
It seems that pretty much everything is going wrong for Sweden's Foreign Minister these days.
Margot Wallström, of the Social Democratic Party, ascended with much fanfare to the post of Foreign Minister in the fall of 2014. She had introduced a completely new concept: a feminist foreign policy. In the Statement of Foreign Policy of 2015, she asserted that "A feminist foreign policy is now being formulated, the purpose of which is to combat discrimination against women, improve conditions for women and contribute to peace and development."
One year later, we now know the outcome: "Feminist foreign policy" is not so much about protecting women's interests, as it is about fawning over the Arab states and the Palestinians — and constantly attacking Israel, the only democracy in the Middle East.
Zvi Mazel, Israel's ambassador to Sweden from 2002-2004, wrote for the Jerusalem Center for Public Affairs on December 14, that,
"The Swedish Social Democratic Party is not known for its sympathy toward Israel. Its current duo of leaders, however, Prime Minister Stefan Löfven and Foreign Minister Margot Wallström, have gone overboard and are waging a systematic campaign against Israel… Although the recognition of a Palestinian state was a continuation of the Swedish left's hostile policy toward Israel, it was also aimed at the country's large Muslim minority — comprising about 700,000 people — with the aim of attracting Muslim voters to the party in the next elections. During my diplomatic tenure in Sweden in the early 2000s, all my efforts to conduct a dialogue with that party fell on deaf ears. … the two countries' relations have turned into a cycle of altercations."
Is Ambassador Mazel right? Let us take a look at what the Swedish government, and its current Foreign Minister, have said and done.
On October 30, 2014, there was the unilateral recognition of Palestine as a sovereign state. The same day the government made its decision, the Swedish daily, Dagens Nyheter,published an opinion piece by Wallström:
"Today's recognition is a contribution to a better future for a region that has too long been characterized by frozen negotiations, destruction and frustration. Through our recognition, firstly, we want to support the moderate forces among the Palestinians: Those that are set to govern the complex formation of a Palestinian state, and those who are about to return to the negotiating table.

"Secondly, we want to facilitate an agreement by making the two parties in these negotiations more equal. The goal is for Israel and Palestine to exist within mutually recognized borders, based on the borders of 1967 and with Jerusalem as the capital of two states, only allowing land swaps if both parties negotiate it.

"Thirdly, we hope to contribute to giving more hope and belief in the future to the young Palestinians and Israelis who otherwise risk radicalization in the belief that there are no alternatives to violence and the status quo."
The reactions came immediately. As soon as Prime Minister Löfven made his Statement of Government Policy, and made public his new government's intention of recognizing Palestine, the Israeli Foreign Ministry called in the Swedish ambassador to Israel to protest the decision, and Israel's then Foreign Minister, Avigdor Lieberman, was openly critical. The same night,word came that Israel called home its current ambassador, Isaac Bachman. Lieberman even said that he was considering removing the Stockholm embassy permanently, thereby downgrading Israel's diplomatic connections with Sweden. This move, however, did not happen.