Up to 200-250 Euros a month!
So they have family in Iraq wealthy enough to send them money, and who haven't left abroad because of danger, they continue to live in Iraq and earn a living. Interesting.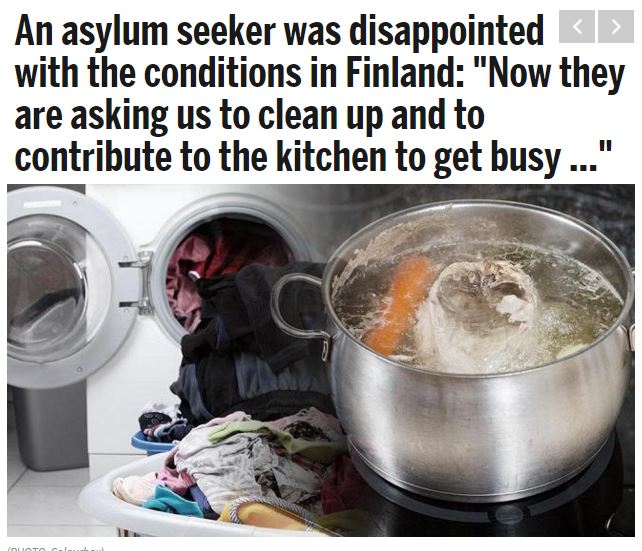 […]
The resident also told of his general experience in Finland. He says he is mostly disappointed.
– We came to Finland through many countries and we wanted specifically Finland because everyone praised about it to us. It was supposed to be a humane country, which treats people well.
First experience in Tampere was mattresses on the floor.
– When we arrived in Tampere, there was not even beds. We slept on the floor. Two weeks ago, beds arrived. We were asked to put them together ourselves, because it reportedly would cost otherwise 50 euros or something like that per bed, if some firm assembled them, the asylum seeker says.
Huttunen says that in Multisilla there were first mattress accommodations and then asylum seekers assembled the beds themselves.
– It was all good activities for them, when they have time to put them together. Many have also liked it. Of course, there are always those who do not like it.
– Now they are asking us to clean up the mess, to participate in the kitchen and so on. Yes, we are doing what they tell us, but you know, we are not accustomed to this treatment. We wash our clothes for yourself, we cook our own food, we suffer all kinds of things, and yet people do not like us, the asylum seeker continues.
EMERGENCY ACCOMMODATION UNIT resident says the food offered in the unit has been disappointing.
– We are given EUR 92 per month. Here you are offered food, but we can not eat it. Our family in Iraq sends us € 200-250 per month, so we can buy food from a store, a resident says.
Huttunen says that the food is basically the same which is offered in other units for the City of Tampere, such as schools.
–  Of course the food is intended to be changed a bit in the direction that it would be suitable for them. Some of them are certainly good and some bad, there's a wide range of opinions on it.
"Changing" means that the meals are containing more things desired by the asylum seekers, for example, rice and spices. However, the food budget is the same as that of other city agencies, such as school dining facilities.
Multisilta emergency accommodation unit does not have any cooking facilities, the asylum seekers mus cook for themselves. Because asylum seekers are provided meals, they receive a less sum of money.
H/T: Kumitonttu