Leftist-muslim nexus.
Miscreants and malcontents creating havoc. If you look closely, there is one woman in the picture, and she's most likely one of these leftist malcontents. I doubt if she would even tell how many times she's been tahrrushed by the muslim horde, nor care.
Chaos in Calais as Anarchists and Migrants Storm Ferry 'Spirit of Britain'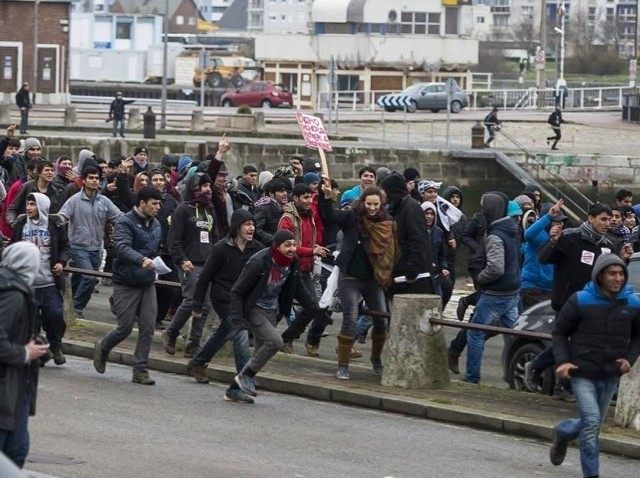 Numerous calls have been made for the French to deploy their army in Calais after 50 migrants stormed a ferry last night, causing chaos and bringing the port to a standstill. Anarchist groups aiding the migrants co-ordinated the attack and a demonstration preceding it that saw statues and shops in the town centre daubed in graffiti.
Ferry workers turned fire hoses on the migrants as they stormed the ship, ironically called the Spirit of Britain, in a desperate bid to keep them at bay. Although around 50 made it aboard the ferry itself – and then milled around seemingly at a loss to know what to do next – only 35 arrests were made.
Twenty-four of those arrested were migrants, the Telegraph has reported, but a further eleven were westerners allied to the no borders movement which advocates the smashing of national frontiers and free flow of people across the continent. A number of British people may be among the 11.
The group has remained defiantly "against all states, and anything that places borders between us".
UPDATE: Vlad:
I'm not 100% certain what is taking place here, but it appears to be a family in Calais defending their home from a throng of invaders and pro-invader people with firearms.
I just got this explanation from George Igler on this clip:
Calais: Local brandished gun at demonstration threatening and attacking his home and family, led by English Leftists and migrants.
"A "pro-migrant" demo largely led by British Leftists, went nuts in Calais yesterday. It was all over the news. They broke into the port, and stormed a ferry, so the whole lot had to be shut down.
This was never reported though. Note, police, nowhere. France is supposedly under a permanent "state of emergency" remember."
H/T Sassy