Remember, according to (fellow turk) former OIC sec-gen Ekmeleddin Ihsanoglu, no Muslim could be an anti-Semite, which would include even Erdogan's brazen Jew hatred.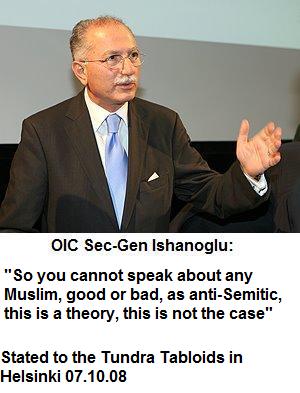 Jew-Hating Turkish President 'Mas-Kom-Ya' Erdogan Extols Hitler's Presidency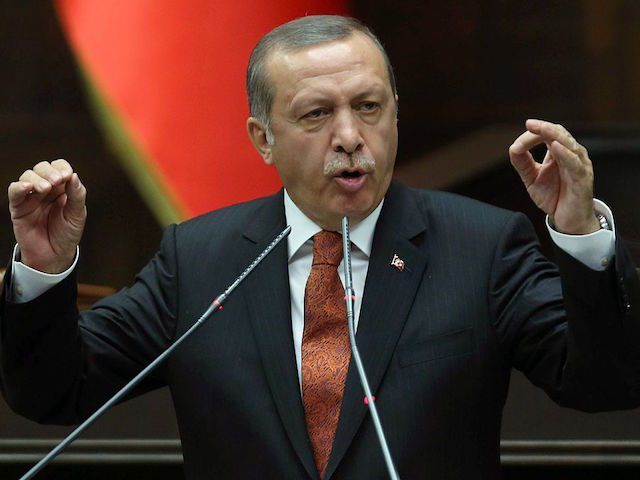 Upon returning from a visit to Saudi Arabia late on Thursday, Turkey's President Recep Tayyip Erdogan cited a striking example to illustrate his quest for consolidation of executive powers.
Per a recording broadcast by the Dogan news agency, Erdogan invoked Adolf Hitler's Germany as an effective presidential system, stating, "There are already examples in the world. You can see it when you look at Hitler's Germany."
Clumsily attempting to explain away Erdogan's unambiguous remarks, a senior Turkish official claimed the good President intended to highlight Nazi Germany as an example of "how not to implement" such a system, averring, "There are good and poor examples of presidential systems and the important thing is to put checks and balances in place."
Citing Hitler is sadly concordant with the current Turkish President's well-established animus towards Jews—rooted in Islam's conspiratorial Jew-hating canon within Turkey and beyond.
For example, Erdogan's religiously-inspired Jew-hatred did not pass unnoticed by Gabby Levy, an Israeli ambassador to Turkey, as recorded in a WikiLeaks cable from October, 2009, sent by the US embassy in Ankara, Turkey. Levy's views were validated by US ambassador James Jeffrey in "C O N F I D E N T I A L ANKARA 001549. SUBJECT: ISRAELI AMBASSADOR TRACES HIS PROBLEMS TO ERDOGAN. REF: ANKARA 1532. Classified By: AMB James F. Jeffrey." Here are relevant extracts from Ambassador's Jeffrey's 2009 cable:
Levy dismissed political calculation as a motivator for Erdogan's hostility, arguing the prime minister's party had not gained a single point in the polls from his bashing of Israel. Instead, Levy attributed Erdogan's harshness to deep-seated emotion: "He's a fundamentalist. He hates us religiously and his hatred is spreading." [US ambassador Jeffrey's observations] Our discussions with contacts both inside and outside of the Turkish government on Turkey's deteriorating relations with Israeltend to confirm Levy's thesis that Erdogan simply hates Israel. xxxxx discusses contributing reasons for Erdogan's tilt on Iran/Middle East issues, but antipathy towards Israel is a factor.
As I further described in my 2012 book, Sharia Versus Freedom, former Turkish prime minister Necmettin Erbakan (1926–2011), founder of the fundamentalist Islamic Milli Gorus (National Vision; originated 1969) movement, mentored current AKP leaders Abdullah Gul and Recep Tayyip Erdogan, both of whom began their careers as active members of Erbakan's assorted fundamentalist political parties, serving in mayoral, ministerial, and parliamentary posts.
As I have detailed in the past, Erdogan wrote, directed, and played the leading role in a theatrical play titled Maskomya, staged throughout Turkey during the 1970s. He was serving as president of the Istanbul Youth Group of Erbakan's National Salvation Party at the time. "Mas-Kom-Ya" is a compound acronym for "Masons-Communists-Yahudi" — "Jews" — and the play focused on the evil nature of these three, whose common denominator was Judaism. When Valley of the Wolves was released in Turkey in 2006, it became the most expensive film ever made in Turkey. The film included a "cinematic motif" which featured an American Jewish doctor dismembering Iraqis allegedly murdered by American soldiers in order to harvest their organs for Jewish markets. At the time, then-Prime Minister Erdogan not only failed to condemn the film, hejustified its production and popularity. His wife, Emine, also attended a gala screening of the film and sat next to the movie's star.
Erdogan's perfidious tribute to Hitler's executive attributes is compounded by his morally cretinous equation of Jews/the Jewish State of Israel with the Nazis and Hitler, across two decades. As Istanbul mayor, during a June 1997 celebration of the mass murderous 1453 jihad conquest of then Byzantine Constantinople, Erdogan declared: "The Jews have begun to crush the Muslims of Palestine, in the name of Zionism. Today, the image of the Jews is no different from that of the Nazis."