The islam 101'er cleric, Anjem Choudary, has amazing amount of pals in top murderous positions for the Islamic State.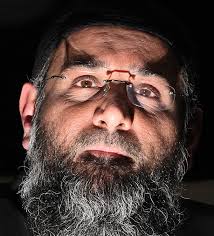 Former hate preacher bodyguard nicknamed the 'Giant ' feared to be the SECOND British killer filmed shooting dead 'spies' in latest sick ISIS video 
A second British extremist is feared to be among five executioners who featured in the latest Islamic State video. The group's leader has already been identified as Siddhartha Dhar (pictured inset left and left in main), the Londoner described as the 'new Jihadi John'. Security sources have now told The Mail on Sunday they suspect that the tall man on his left in the film is Mohammed Reza Haque (inset right, right in main and left), 35, nicknamed Giant.