There are no 'hostages' for islam 101 islamonazis, just people that they haven't murdered yet.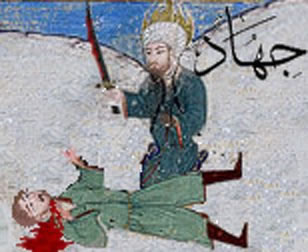 Terror in Burkina Faso: Ten bodies found after Masked Al-Qaeda take over top tourist hotel as security forces storm building to save 33 hostages
Bombs: Masked jihadi gunmen have killed at least 20 people with 'foreigners among the dead' as security forces battle to free hostages
At least ten bodies have been found inside the Cappuccino Cafe, a restaurant that is located next to the Splendid Hotel in Ouagadougou
At least 20 people have died in the attack on the Splendid Hotel in Burkina Faso's capital, Ouagadougou, West Africa
Security forces stormed the hotel to break the five hour siege after masked gunmen took hostages 
Russia's Honorary Council in Burkina Faso said foreigners are among the dead, 'possibly including Europeans' 
Witnesses say two car bombs exploded at 7.30pm local time, followed by a fierce gunbattle with security forces
The business district hotel and neighbouring Cafe Cappuccino is used by UN staff and westerners 
Local Al-Qaeda in the Islamic Maghreb (AQIM) branch Al-Mourabitoun have claimed the attack
Thirty-three hostages were freed by security Burkinabe and French soldiers early Saturday morning
Of the several of people wounded in the attack was identified as French national Leila Alaoui
Burkina Faso has largely been spared the violence wracked by Islamic extremist groups in northern neighbour MaliPUBLISHED: 21:23 GMT, 15 January 2016 | UPDATED: 06:38 GMT, 16 January 2016
At least ten bodies have been found inside a cafe in Burkina Faso's capital that was attacked by the same al-Qaida militants who seized an upscale hotel in the capital about 10 hours ago, a government minister said.
Heavy gunfire, meanwhile, has erupted again early Saturday in Ouagadougou as about 30 French and 40 Burkinabe forces worked to free an unknown number of hostages still held inside. Already some 33 people have made it to safety amid a siege launched by at least four gunmen.
Of those who were freed was Clément Sawadogo, a government minister, Remis Dandjinou, Burkina Faso's minister of communication said on Twitter, adding that the operation to retake the Ouagadougou's Splendid Hotel is ongoing.
Internal Affairs Minister Simon Compaore said the bodies are inside the Cappuccino Cafe, a restaurant that is located next to the Splendid Hotel. The identities have not been released.
It is unknown how many hostages remain trapped inside the hotel, which was accidentally set on fire during the rescue attempt.
Al Qaeda in the Islamic Maghreb claimed responsibility for the attack, according to a statement released on an encrypted messaging app. The group said the fighters have killed as many as 30 hostages.
The organization claims that the operation was 'revenge against France and the disbelieving West', according to New York Times foreign correspondent Rukmini Callimachi.
The group said it targeted Splendid Hotel because it is popular with foreigners, saying the attack as sent a message 'written by the heroes of Islam with their blood and body parts', according to The New York Times.
The statement was addressed to a foreign audience as 'the Cross-worshipers, the occupiers of our lands, the looters of our wealth and the abusers of our security', saying the attack was intended 'to punish the Cross-worshipers for their crimes against our people in Central Africa, Mali and other lands of the Muslims, and to avenge our Prophet, God's peace and blessings be upon him'.
Of those wounded is French national Leila Alaoui, who is undergoing surgery, according to New York Times contributor Aida Alami.
French television network France 24 reported that at least 20 people have been killed in the attack. Two survivors, who did not give their names, were interviewed by the station.
A view shows vehicles on fire outside Splendid Hotel in Ouagadougou, Burkina Faso during a siege by Islamist gunmen on Saturday