To all those Jew hating conspiracists out there, here's another classic example of what real societal manipulation looks like, by (a heavily political) religious group with a manifest destiny.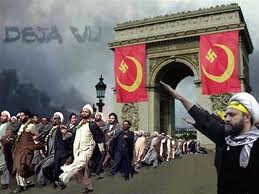 It always amazes me that Jew-haters have to invent scenarios in order to blame the Jews, while Muslim leaders (with a pliant Islamic community) openly push the non-Islamic society into accommodation of their values, mores and traditions.
It's why Jew-hatred is based solely upon irrational thinking and Islamofauxbia, a ruse. Jews may have an affinity to a tiny plot of land (Israel) outside the countries they call home, but devout Muslims must cling to the doctrine of world domination where Islam, and only Islam, is to reign supreme and the master faith.
Sit exams early to fit in with Ramadan: Hundreds of thousands of A-level and GCSE pupils face timetable shake-up to accommodate fasting Muslims
The GCSE and A-level schedule has been rearranged so that some exams in key subjects are clustered before the start of the Islamic holy month. Where maths and English tests do fall during the festival, a larger number than usual are being held in the morning.
This is to avoid disadvantaging fasting pupils who can suffer low energy levels in the afternoon. The Joint Council for Qualifications, which represents exam boards, said timetable allowances would be made where possible in subjects with large numbers of entries.
NOTE: 10-15 years ago if this scenario would be brought up as a possible indicator of societal islamization, you would have been derided as a kook.