If not for Jew-hatred (anti-Semitism), the War Against Israel (WAI) could not exist.*
The Haaretz is the go-to paper for every Jew hater on the planet.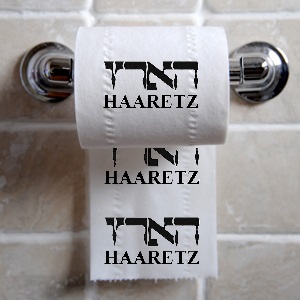 Ha'aretz Faux "Book Banning" Story Proves Once Again That Israel Is The Most Important Story On Earth
Ha'aretz reported a few days ago on a controversy over Israel's Education Ministry declining to put a certain book on the high school curriculum. The book in question, translated in English as "Borderlife," is a story about a romance between an Israeli Jew and a Palestinian Arab Muslim. It also apparently includes extremely negative portrayals of the IDF. Ha'aretz's story was picked up by:
NBC
(update) BBC
and . . . wait for it . . . Storm Front. Oh wait and . . . David Icke. No links for those two. Google them at your own peril.
Most of those outlets repeated Ha'aretz's slur that the book had been banned. In fact, the book has not actually been "banned," rather, a decision was made not to include it on the high school curriculum. (We don't often give AP credit around here, but in this case AP does deserve credit for making that distinction.)
* NOTE: Coined by TINSC