I wonder if we had such a hard time distinguishing between hardline Nazis and moderate ones?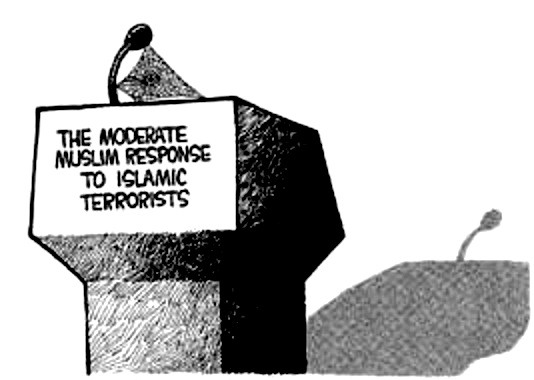 My focus has always been on the Islam 101'ers and the silent majority who allow the former to get away with their agenda. It really is a vicious circle though, the supposed moderates claim the high moral ground while failing to exactly detail where that justification comes from. That they choose not to exclusively adhere to the post-hijra portion of the koran, does absolutely nothing to negate that portion (which conveniently supersedes pre-hijra portion) which contains most of the violence and intolerance.
We point this out, and we are immediately blamed for lumping all Muslims into the same category of radicals and extremists, when in fact, they have done that themselves. Noting the obvious shouldn't make the bearer of these highly obvious bad tidings, the guilty party.
I have great respect for Melanie Phillips, I do however reject my (and others) disgust with outward signs of the sharia (anti-kafir/infidel jurisprudence), as signs of prejudice against Muslims. Unfortunately, she (Melanie) does not come out and detail exactly what 'prejudice' against Muslims she is referring to, because the (very ambiguous) just mentioned has been used by HnH as a supposed de facto sign of prejudice towards Muslims, which I totally reject as having any kind of validity whatsoever.
As I See It: Confused Jews and Islamophobia phobia