The very people soft headed Leftist maroons (who hate Donald Trump) would let in.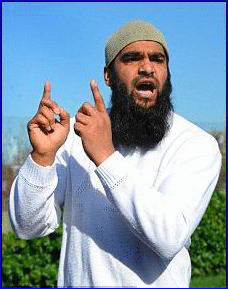 Facebook page linked to Taliban and Al Qaeda was registered to same address as British Muslim father whose Disneyland trip was blocked by Homeland Security 
Mohammad Tariq Mahmood tried to travel from Gatwick Airport to LA
He, his brother and nine children were stopped on the orders of the US 
Mr Mahmood says the family were barred 'because we are Muslim'
He dismissed Facebook account claiming links to Al Qaeda and Taliban
It was set up by someone who has lived at the family's postal address 
David Cameron says he'll examine the case after it was raised by an MP
Mohammad Tariq Mahmood and his family were stopped from going to the U.S. just minutes before they planned to board a flight to Los Angeles where they were going to see family and visit Disneyland
A British Muslim father whose planned Disneyland trip was ruined when he and his family were barred from boarding a flight to the U.S. has now been forced to distance himself from a Facebook account claiming links to Al Qaeda and the Taliban.
Mohammad Tariq Mahmood, 41, his brother and their children, aged between eight and 19, said they were stopped at the departure gate at Gatwick airport and told their visas to the US had been revoked.
He claimed the family were barred from flying 'because they are Muslim'.
However, it has since emerged that a Facebook page claiming links to radical Islamist groups was set up by someone who has lived at the family's postal address, according to ITV News.
The account, which includes information suggesting it may have been published as a joke, was in the name of Hamza Hussain – a first name shared by Mr Mahmood's 18-year-old son. It reportedly lists the job titles 'supervisor at Taliban and leader at al-Qaeda'.
When asked about the account, Mr Mahmood believed hackers may have been to blame, adding: 'That could be anything, maybe a mistake.'
He said: 'It is not my son's Facebook page. It has a similar name, but not the same as my son's.
'The page is also linked to our home address and that could be coincidence. I don't know why it is linked there. The name is not even the same. The authorities must have linked it simply because of the name Hamza.'
It was understood that the wives of Mr Mahmood and his brother had stayed at home for the trip because one of them was ill and one of the children did not have a valid passport.
But it is now believed that Mr Mahmood's wife was in Pakistan at the time.
The family say were given no explanation why their visas, organised six weeks before the flight, were suddenly cancelled at the last minute and have now lost the £11,000 they had saved for the holiday.
It has also been suggested the move by US authorities could be due to Mr Mahmood's brother having been refused entry to Israel eight years ago, but no official explanation has been given by the US Embassy.
The flight ban comes after Republican presidential candidate Donald Trump called for all Muslims to be stopped from entering the US.